It's clear that Amazon's growth isn't slowing any time soon. So, it's up to you as a seller to set yourself up for continued success. One of the key ways to do this is to reach new and unexplored customer bases. On a site that seems to have it all, there are still some awesome opportunities to be seized and taken advantage of.
Finding products with little competition that a niche of customers is searching for is one of the most important factors in your Amazon selling success. The research into the viability of products, reliable vendors, and pricing strategies is all important.
So how do you begin to discover these products? The Jungle Scout Opportunity Finder is a robust tool that is popular with Amazon sellers for a number of reasons. It is intuitive, data-driven, and extremely easy to use and interpret. This feature can give you just the product research edge you need to boost your overall sales strategies.
Understanding the Jungle Scout Opportunity Finder
One of the best aspects of The Jungle Scout Opportunity Finder is the user-friendly setup. It provides several key features and functions, all wrapped into an intuitive interface, so you can optimize product research and focus on running your business.
What is the Jungle Scout Opportunity Finder?
The Opportunity Finder is an Amazon product opportunity explorer that analyzes product listings and their data. This provides sellers with valuable information regarding sales, competition, and potential profitability. You'll gain insight into keyword data and how you can take advantage of market niches to gain customers and boost sales. This all provides key insight to guide you in sourcing products that are in demand but have low competition, a winning combination in the e-commerce world.
Key Features and Functionality
There are some important features that make Jungle Scout's Opportunity Finder helpful, not just in the product research stage, but in several parts of the sales process.
Product Database and Search Filters
With Jungle Scout's access to a vast product database, you benefit from data regarding every listing on Amazon. While that might sound overwhelming, the tool has some helpful search filters you can use to hone in on the various product categories you're considering. Begin by selecting your product category or categories and filter the results based on your specific objectives.
Average Monthly Units Sold
This allows you to set a minimum and maximum range of units sold for your search results. That way, you can avoid stagnant products as well as listings that have already secured a large market share.
Monthly Search Volume
This can give you a great way to filter by what items customers are searching for, and what keywords might be falling flat. The higher the search volume likely means more popular — and profitable — the keyword-related items.
Average Monthly Price
With this filter, you can set a minimum and maximum to determine a price range. This is helpful in determining profitability, pricing, and locating ideal products at a pre-determined price point.
Search Volume Trends
This can help you determine what items have been spiking in the last month, whether due to seasonality or market trends. You can also set your timeline to various spans to compare the lengths of trends.
Niche Score
Jungle Scout uses an intuitive, proprietary algorithm that analyzes competition, demand, and keywords to give each product a niche score. This filter allows you to decide what level of product niche you'd like to analyze.
Competition
With this sliding scale filter, you can skew your desired level of competition and view the results by level of competitor saturation.
Seasonality
Seasonality determines whether products will be more popular during certain times of the year, or if they experience more stable sales. This is another sliding scale filter that allows you to select how seasonally affected you'd like your product results to be.
Once you've selected your categories, filters, and generated results, you'll get a good overview of your product options. You can then sort this list further by these data points as well as things the number of reviews, total revenue, and product availability date to better understand your options. Plus, you can save your carefully adjusted filters to use them again in the future.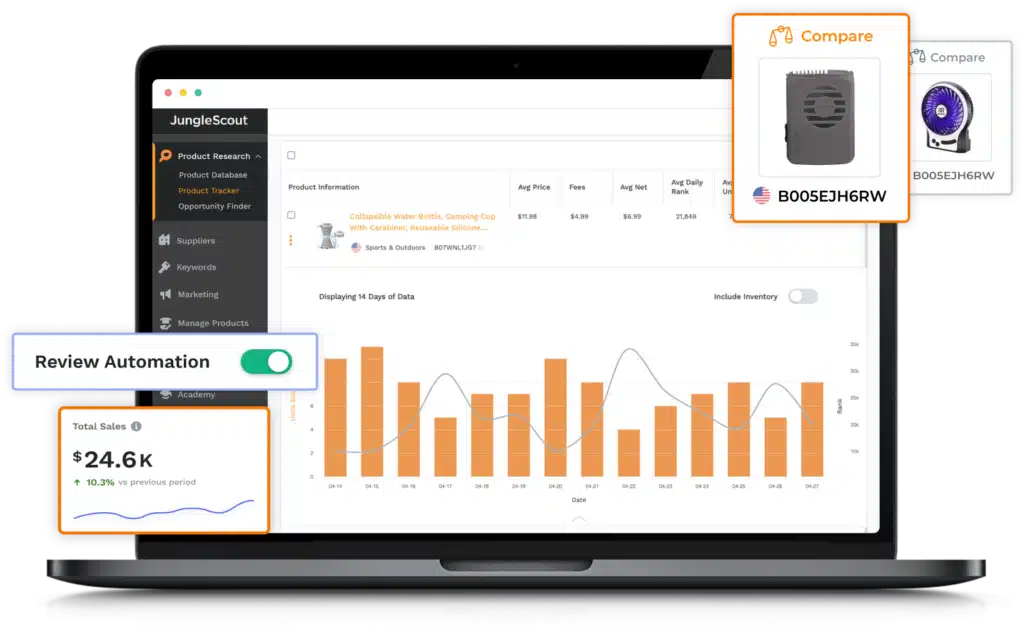 Want to boost your profits and streamline your Amazon FBA business?
Get 80% OFF on JungleScout and take your business to the next level today!
Historical sales data and trends
Historical sales data and routine trends can be one of the best predictors of a product's future success. The Opportunity Finder provides you with easy-to-interpret data so you can make better-informed product selections.
The tool provides graphs to allow you to easily analyze trends over the past segments of time. You can see how the average units sold or the sales prices have trended over the past months or even years. The graphs also illustrate how keyword performance and seasonal sales have trended over time. You can even gain information regarding customer reviews to fully understand the market's reaction to a certain product.
Competitor Analysis
The best way to beat out your competition is to get to know your market landscape well. Fortunately, the Opportunity Finder gives you an efficient way to analyze these trends. Not only can you identify product niches that have low and very low competition, but you can also pinpoint keywords that aren't as competitive as well.
Understanding your competitors and their trends allows you to best position yourself in the market. You can use the data you gain to fill product gaps that your competitors are leaving open. It can also help you determine competitive pricing strategies and the level of sales you need to strive for to be a leader in your niche.
User Interface and Navigation
When it comes to an intuitive, data-driven tool, ease of use is a must. With Jungle Scout's Opportunity Finder, you'll enjoy access to a comprehensive interface with navigation tools you're already familiar with.
Everyone from those just starting out to seasoned sellers will find the tool's dashboard equally useful. With easy-to-manage search tools, drop-down sorting menus, and scale-based searches, you can easily generate the results you need. Plus, you don't have to be a data analyst to interpret your insights. They can be clearly visualized with interpretable bar graphs, line graphs, and color-coded indicators.
How to Find Profitable Products to Sell on Amazon Using the Jungle Scout Opportunity Finder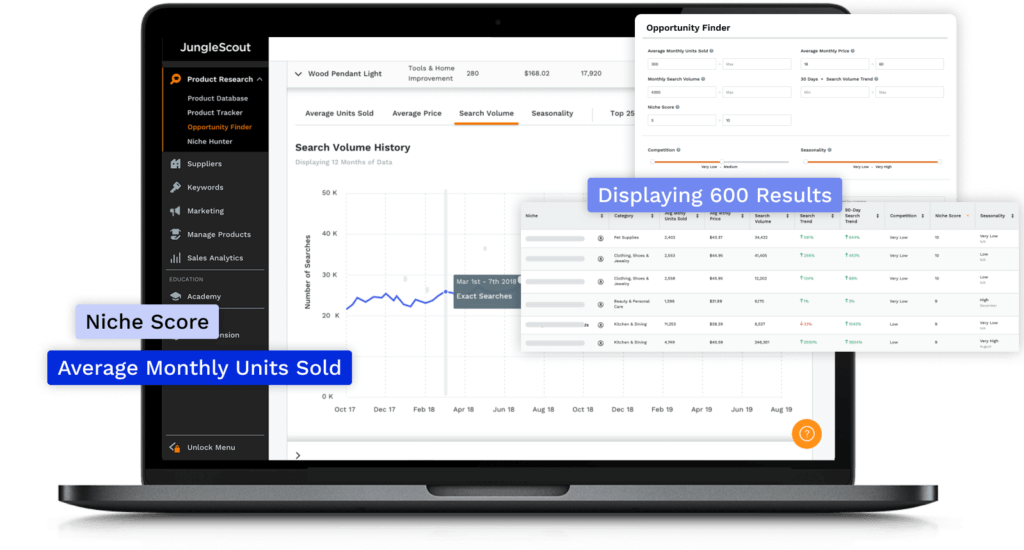 Fortunately, finding profitable Amazon products is quick and easy using The Opportunity Finder. In fact, you can do a simple search in just moments, or take a little more time to go more in-depth with more specific parameters.
Step-by-step guide on finding profitable products to sell on Amazon
1. Define your product criteria
Think about your goals as a seller, your desired niche, and the market you're striving to reach. Then, think about whether you'd like to expand into new product categories or deepen your audiences within categories you already have a presence in.
2. Utilize search filters
Use the search filter tools to fine-tune your results. Maybe there is a specific price range you'd like to branch into, or you'd like to opt for products with proven monthly sales volume. You might simply be looking for products with little to no competition from other sellers. Either way, carefully set the filters to find your ideal results.
3. Analyze historical sales data and trends
Take a look at the data the tool generates that keys into a product's historical sales. Make sure to look at both short-term and long-term data. Are there any significant lulls or spikes to note? Or have the sales been steady over time? This can be a good way to forecast future demand and any cyclical sales trends that may occur.
4. Evaluate competitor performance
Take a look at what the competition is doing well — and not so well — in regard to product listings, pricing models, and customer satisfaction via reviews. This is a perfect way to find gaps in their strategies that you can use to make your product offerings and listings stand out.
5. Conduct keyword research
In the dashboard, you can view data regarding a specific product's target keyword over a historical timeframe. See how it has performed in terms of sales, trends, and search volume to determine its potential future success.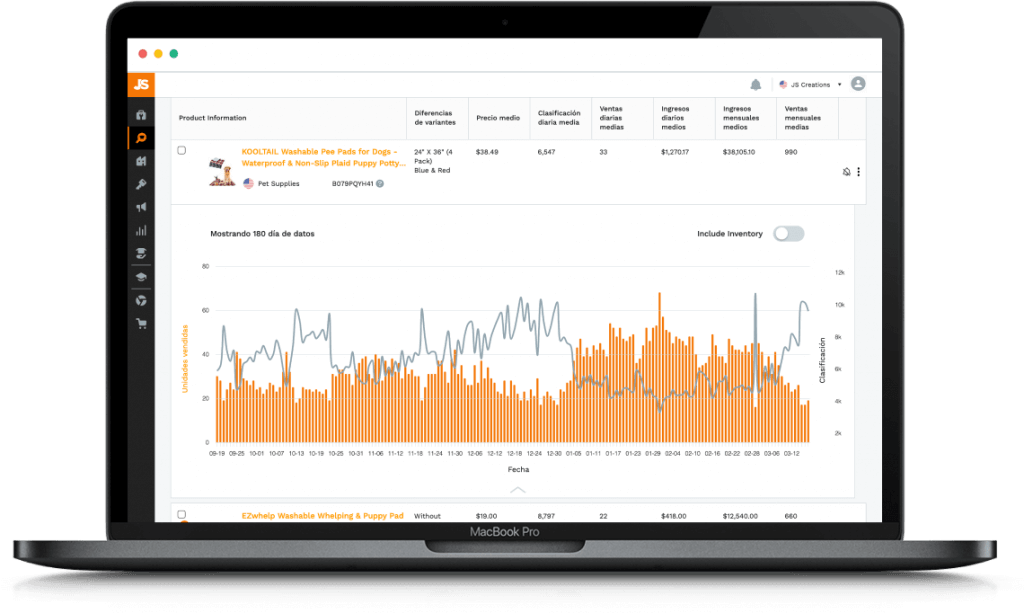 Supercharge your Amazon FBA businesss
Click here to get an 80% discount on the best FBA seller features from JungleScout!
Tips and best practices for effective product research
While The Jungle Scout Opportunity Finder is a powerful tool, a few user hints can help make it even more robust and effective for your business.
Narrowing down your niche
Narrow your target market and desired niche to a more specific set of products and customers. This may seem counter-intuitive, but narrowing your scope allows you to select more specific products that best meet your audience's needs. With a smaller target market, you can deepen your understanding and gain a great share of your niche. Plus, it will help you market to them more effectively long term.
Assessing demand and competition
Striking the perfect balance between plenty of demand and not too much competition is key. You want to sell products that customers want, but you don't want to enter a field that's already saturated with sellers. Look at the tool's data to see what products have low competition, but also have plenty of search volume and potential, as well as a high niche score.
Identifying product differentiators
In a marketplace full of products, the little details matter. An Amazon product opportunity explorer allows you to look for minute details that make a product stand out from the competition. It could be something as minor as offering a specific color option or an included accessory that could make you the seller of choice. Once you can identify these differentiators, you can use them as a selling point to make your product stand out.
Benefits of the Jungle Scout Opportunity Finder
The Jungle Scout Opportunity Finder offers multi-faceted benefits that don't only improve your product discovery, but also allow you to focus on the other areas of your business.
Time-saving and efficiency
In the fast-paced world of e-commerce, time is money. Streamlining your product research process makes it more efficient while not sacrificing accuracy. With automated and data-driven insights, you'll receive the valuable information you need while automated tracking gives you consistent access to historical info.
Data-driven decision-making
When you have clear and interpretable data, you can make smarter, more informed decisions. Easily analyze the tool's reliable product research to select offerings that have the most potential profitability. These trends and statistics can give you a clear, objective basis to make ongoing product selections.
Uncovering hidden product opportunities
There may be a product you never even dreamed of selling on the site — but other sellers haven't either. The Opportunity Tool can help you discover these overlooked product gaps so you can be the seller that fulfills a need. Sometimes, those untapped niches are just the thing you need to see successful sales.
Staying ahead of the competition
Take the guesswork out of competitor performance monitoring and allow the tool to analyze the data. Use the tool's features to look for opportunities to beat other sellers' pricing strategies, take advantage of emerging trends first, and seize on rising keyword popularity.
Conclusion
The Jungle Scout Opportunity Finder is just one valuable tool in a whole suite designed for your success as an Amazon seller. It can help you identify profitable products, give you keyword insights, and help you predict and take advantage of key trends. It's a well-rounded tool that any Amazon seller can benefit from and the ease of use can't be beat. Plus, you can use it effortlessly with the rest of Jungle Scout's features to help you succeed in all aspects of your Amazon sales journey.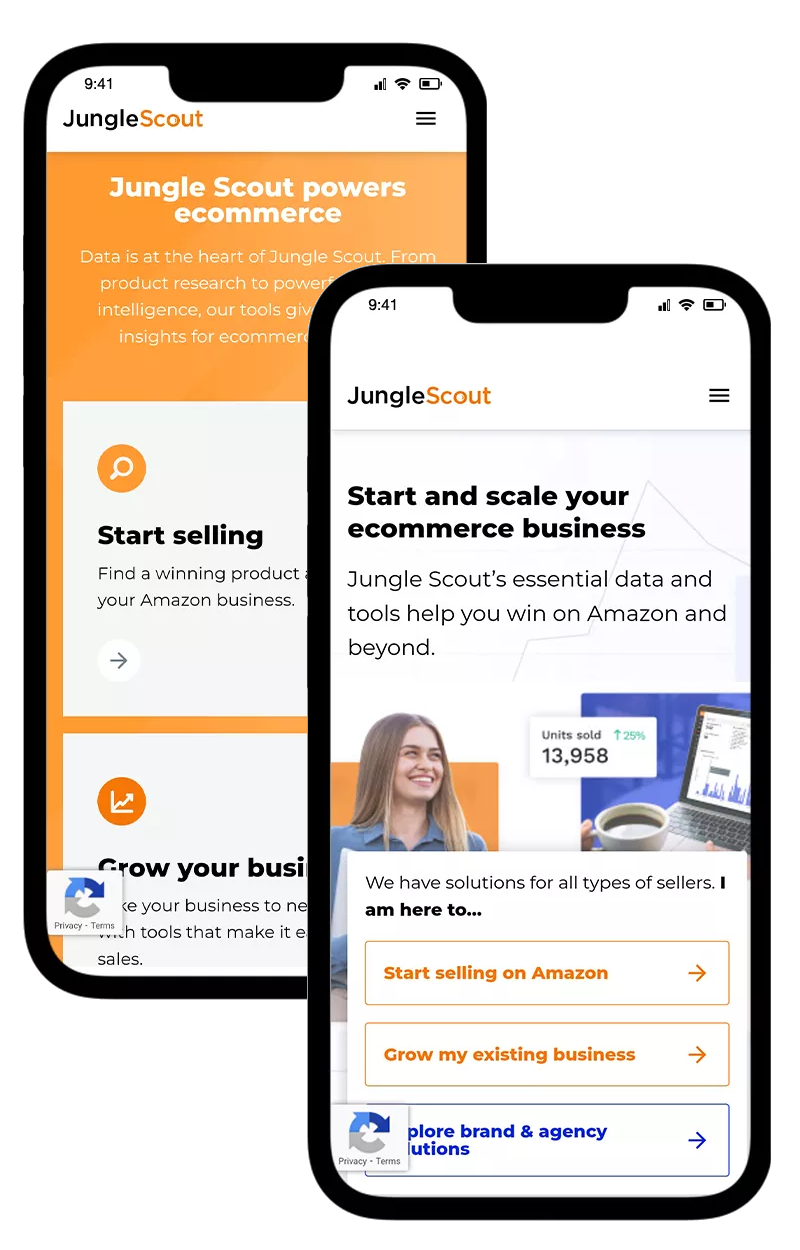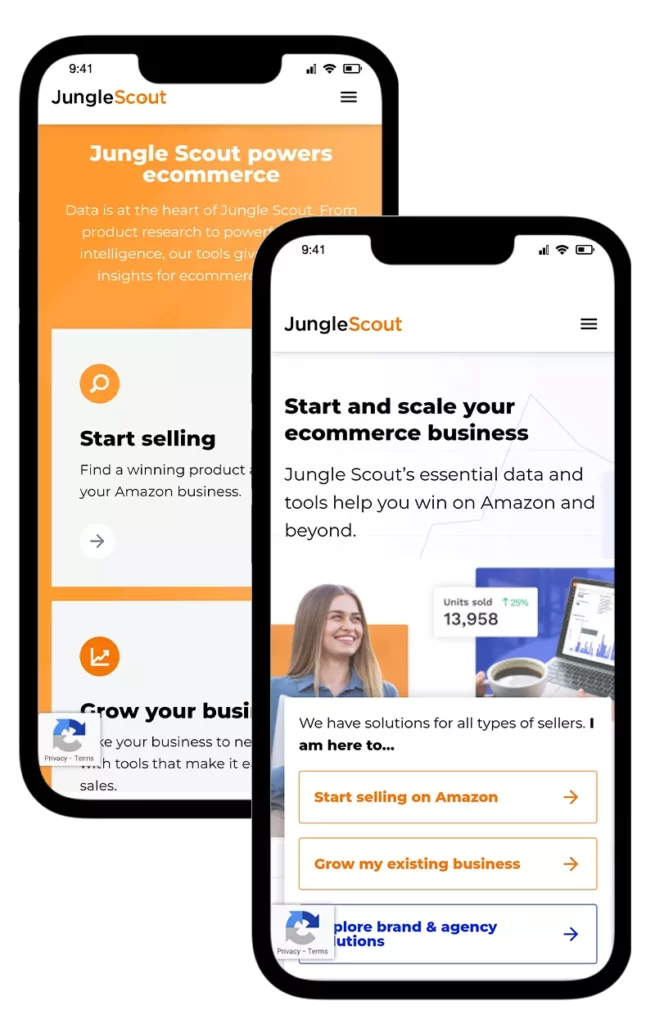 Save time & money while selling on Amazon FBA
Get an 80% discount from JungleScout today! – LIMITED-TIME DEAL