It's no secret that Walmart is one of the most successful retailers in the world. And with the launch of their marketplace, they have harnessed selling products in a whole new way. This Walmart Marketplace gives sellers access to a growing platform that is quickly gaining e-commerce market share. With about 220 million visitors browsing the site each week, it's a prime spot to get your products seen (via Zentail).
One of the best parts of taking advantage of this marketplace is the level of ease at which sellers can get started. Onboarding your account and adding products to the site is a simple process for nearly every level of seller. Plus, there are no upfront fees, making exploring this option risk-free.
However, there's a big factor to remember when entering the Walmart Marketplace world. The platform charges sellers fees based on the transactions it facilitates. These are based on everything from the product category to the sales price. Carefully evaluating these fees will allow you to select the ideal products to sell and determine what your net profit may be. Here's everything you need to know about selling on Walmart and the fees that come with it.
How to Sell on the Walmart Marketplace
Getting started on the Walmart Marketplace is super simple, but there are a few guidelines.
First, unlike Amazon, the Walmart Marketplace is only open to domestic sellers in the United States. You can't use your social security number to register so you'll have to register for a business tax ID or license number. You'll also have to use Walmart's fulfillment services or prove that you've secured US-based warehouse space with shipping and return capabilities.
This no-risk process is where Walmart shines over Amazon, especially for those looking to minimize upfront fees and hassle. It's typically quicker to get up and running with a Walmart Marketplace account. And, while Amazon charges a fee per item sold or a flat monthly fee for sellers, Walmart Marketplace doesn't. This means that you only pay fees to the marketplace when your items actually sell to customers.
Getting started with selling on the Walmart Marketplace takes just a few simple steps:
Submit an application: You'll fill out the basic information about your business, the shipping methods you'll offer, and your sales history then wait to get approval.
Create an account and register: Once you're cleared to join the marketplace, you'll set up your account and complete more detailed forms like tax information and retailer agreements.
Set up your profile: This is a complete overview of your retailer details including shipping options, your return policy, and customer service contact methods.
Add your products: This is the final step before your launch. You'll upload your inventory details to the marketplace including product information and photos for each item you plan to sell. Make sure your test your page with each change to make sure it works for customers.
Launch your account: Click the launch button and your listings will go live and be ready for customers to add to their carts within about 24 hours.
How Much are Walmart Marketplace Fees?
Figuring out your Walmart Marketplace Fees is one of the most complex aspects of selling on the platform. As a reminder, setting up your listing is completely free. Where Walmart earns its cash is on the backend when products are actually purchased by customers.
The biggest factor in determining your fees is the category in which your product falls into. Electronic items like PCs, cameras, and gaming consoles are at the lower end of the range. However, the fees from items like jewelry, groceries, and personal care items will eat into your profits the most. Here's an outline of the fee structure based on the product categories:
Product Category
Referral Fee Percentage
Personal Computers
6%
Camera & Photo
Cell Phones
Consumer Electronics
Major Appliances
Video Game Consoles
8%
Plumbing, Heating, Cooling & Ventilation
Tires & Wheels
10%
Automotive & Powersports
Industrial & Scientific
Musical Instruments
12%
Apparel & Accessories
Books
Furniture & Decor
Gourmet Food
Home & Garden
Kitchen
Luggage & Travel Accessories
Music
Office Products
Outdoors
Pet Supplies
Shoes, Handbags & Sunglasses
Software & Computer Video Games
Sporting Goods
Toys & Games
Video & DVD
Video Games
Everything Else
15%
Tools & Home Improvement
15% (except 12% for Base Power Tools)
Outdoor Power Tools
15% for items with a total sales price ≤ $500
8% for items with a total sales price > $500
Watches
15% for the portion of the total sales price up to $1,500
3% for the portion of the total sales price greater than $1,500
Electronics Accessories
15% for the portion of the total sales price up to $100
8% for the portion of the total sales price greater than $100
Indoor & Outdoor Furniture
15% on the first $200, 10% on amounts > $200
Jewelry
20% for the portion of the total sales price up to $250
5% for the portion of the total sales price greater than $250
Baby
8% for items with a total sales price of $10 or less
15% for items with a total sales price greater than $10
Beauty
8% for items with a total sales price of $10 or less
15% for items with a total sales price greater than $10
Grocery
8% for items with a total sales price of $10 or less
15% for items with a total sales price greater than $10
Health & Personal Care
8% for items with a total sales price of $10 or less
15% for items with a total sales price greater than $10
This can be one determining factor when selecting products. However, product research based on product popularity, sales data, and competition can also give you good insights. A powerful product research tool, like the ones offered by Helium 10, can provide you with a well-rounded approach to product selection.
How Do Walmart Sellers Get Paid?
Walmart sellers get paid through a portal called Payoneer Payment Gate. When you set up your marketplace account, you'll also register with this service. It's super simple to use and move money through. First, you'll set up your free account. If you already have one, you can link it to your Walmart Marketplace account with transaction fees. However, if you set it up with your Walmart Marketplace account, you'll avoid these fees. To set up a fee-free account, you'll begin in the Walmart Sellers Center. Fill out the simple form, submit it, and wait for approval. Then, your account will be activated and ready to receive payments.
When will I receive payment?
When you first begin selling on the marketplace, during the first 90 days and before you've made $5,000 in gross sales, you will see a 14-day waiting period on your regular payments. After that, you will have a regular payment cycle of either weekly or biweekly. Keep in mind, the payment schedule and settlement date for your order will be determined by the actual date of shipment, not the order date.
For example, a seller who sets up their Payoneer account and begins selling will experience a 14-day payment delay for the first 90 days. So, if you begin selling onDecember1, 2023 and fulfill 20 orders before December 12, you'll receive your Payoneer payment on December 28th. However, after you've been selling on the marketplace for 90 days and you've grossed at least $5,000 in sales, the additional 14-day waiting period will be eliminated.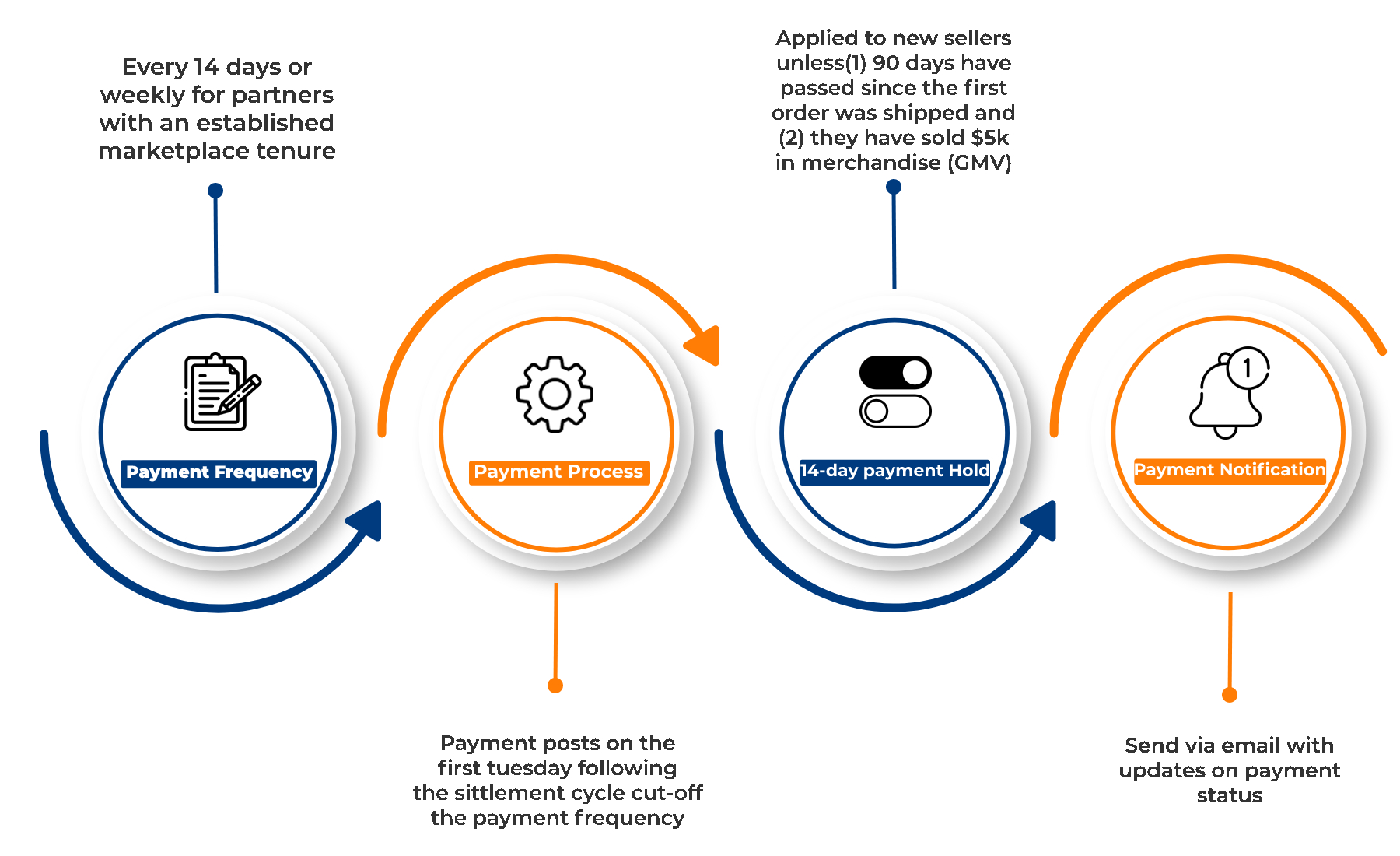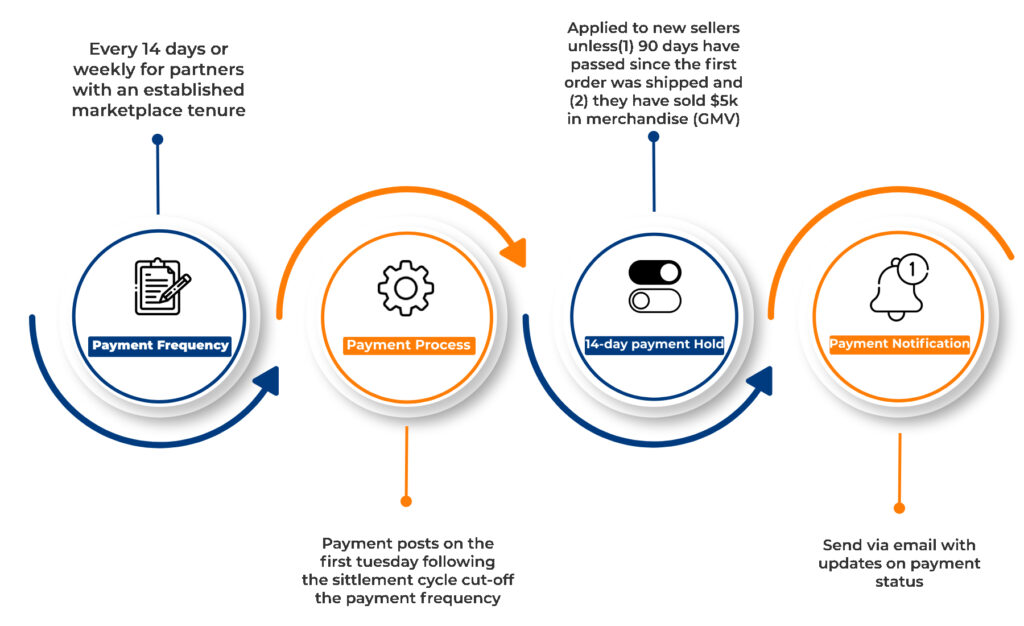 Your net payments will account for your sales minus the applicable Walmart seller fees and shipping costs. You can also set your marketplace account up to configure sales tax. Price your products accordingly with these fees in mind to best project your profits.
What happens if my payments are delayed or suspended?
There are a few reasons that you might see a delay in your payments. Walmart Marketplace can put a suspension on your account for several reasons. These include:
Missing/incorrect tax information – Make sure you provide the portal with any new or updated tax documentation or numbers to keep your account in good standing.
Order issues/cancellations – If your orders are canceled by buyers or the site auto-cancels them when your shipments are delayed, both your seller account and payments may be suspended.
Frequent returns and refunds – The marketplace sees this as a sign that you're misrepresenting your product or buyers are receiving damaged or low-quality items.
Delivery delays – Efficient shipping within the expected delivery is essential to keeping your account in good standing.
How do I collect sales tax on my Walmart Marketplace sales?
Collecting sales tax is the responsibility of the seller, and while the various rates between states complicate it, the platform takes the guesswork out of it. You can set up your account to include the tax in the price of the item or display it separately. Then, your taxes are compiled and automatically withheld from your regular payments.
Successfully Selling on the Walmart Marketplace
The Walmart Marketplace can be an invaluable asset to sellers. Not only does it put your products at the fingertips of millions of customers, but it's also incredibly easy to manage. You can launch your account with minimal effort and only pay when your products sell.
One of the first steps in planning your inventory is being aware of the Walmart selling fees that apply to specific categories. This will guide your choices as well as aid you in pricing items strategically. This, combined with data-driven demand and competition research will help you create an inventory bound for success. For an all-in-one tool to help you through the research and optimization processes of selling on Walmart Marketplace, consider trying Helium 10 at our discounted 20% off starting offer.
As you grow your presence in the marketplace, you can optimize your efforts and scale your inventory accordingly. Keeping the seller fees in mind, you can expand into new categories and reach a wider audience. Add in powerful advertising assets like Search Nurture and you can ensure that your future customers can discover your products. Then, you'll be ready to harness the power that the Walmart Marketplace provides long-term.