Over the last decade, but especially during the last five years, individuals and small retail brands have flocked to Walmart and Amazon to sell their offerings on their online marketplace platforms. Amazon is one of the largest seller platforms in the world, with 6.3 million total sellers and an incredible 1.5 million active sellers in 2021, according to Marketplace Pulse. Although Amazon was first to dabble in online marketplaces when it started Fulfillment by Amazon (FBA) in 2006, Walmart has since caught up. In May December, 2023, Walmart's marketplace surpassed 150,000 sellers, a 66 percent increase compared to the number registered a year earlier, per numbers gathered by Statista.  
So why do people sell their merchandise on these platforms? Well, Walmart and Amazon are great places for smaller companies to promote their wares but also opportunities for individuals to develop second streams of income through selling their own branded goods and reselling others. Like any other set of tools, each marketplace has its pros and cons that should be considered by anyone looking to get into online retail marketing. Choosing which platform is right for you depends on how many different categories and subcategories you're selling in. If your product line is flexible, you can actually sell on both marketplaces as well.
Read on to learn more about the differences between Walmart and Amazon, including which is best for new sellers, what the selling fees on each platform are, what are the advertising options available, how the fulfillment services work, and what it takes to be a successful seller on each of the platforms.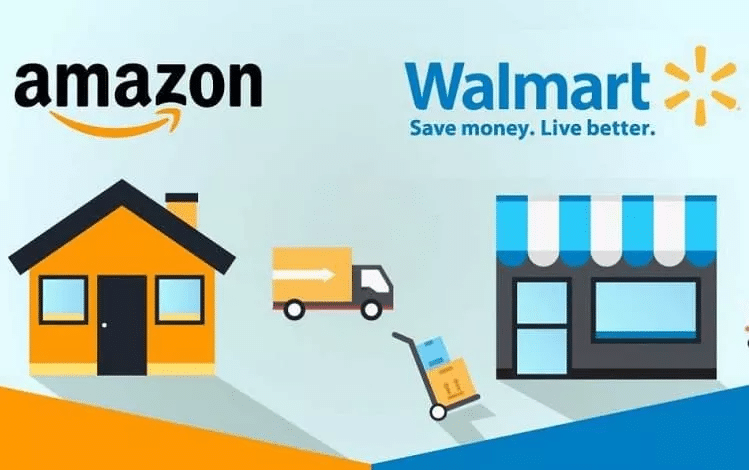 Best for New Sellers
If you're a beginner and haven't sold anything online before, Amazon is the place to get started. You can set up your account or use your existing Amazon customer account, create product pages, and develop pricing based on your costs, Amazon referral fees, and the 99 cent per product sales fee. This does not mean this is where you will eventually sell the most products, as Walmart customers may be more attuned to what you sell. However, from a basic setup perspective, Amazon is easier.
As with any product or service, especially those offered exclusively online, it is important to do some research before getting started to see what's best for you. Below we'll outline how to get started on Walmart and Amazon in detail to aid your research.
Getting Started on Amazon Marketplace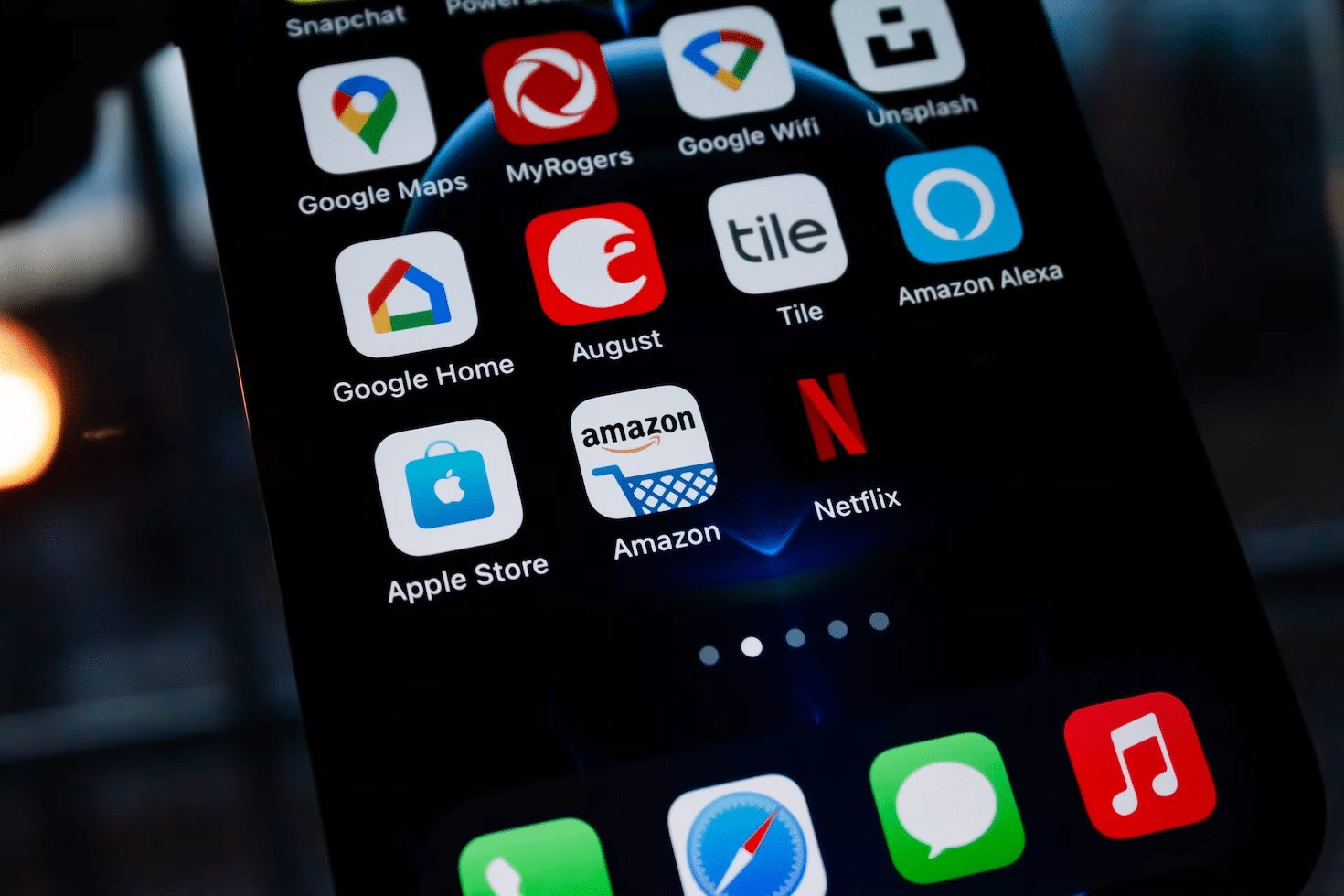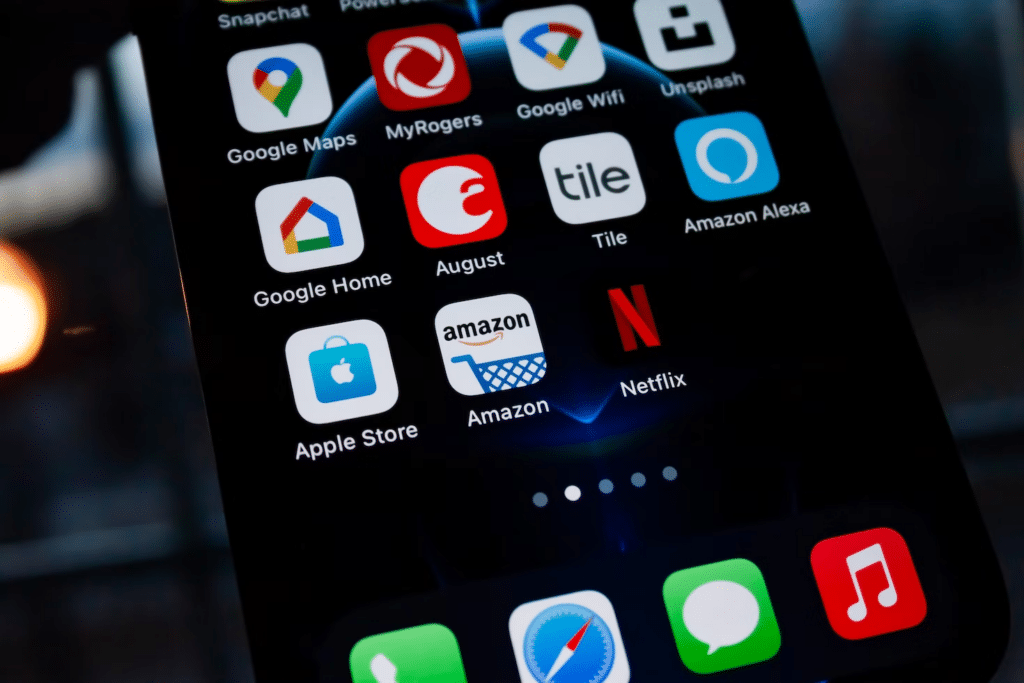 Starting to sell on Amazon is straightforward, but does require some information prep work. Due to the fact that millions of people already have Amazon accounts, the online retailer piggybacks on this as part of the process. So, if you typically buy things on Amazon and have an account, you are already one step ahead.
Here's a list of the information and documentation you need to start selling on Amazon. As you will see, it is a little less formal than the initial setup for selling on Walmart.
Business email address or Amazon customer account
Internationally chargeable credit card
Government ID (identity verification protects sellers and customers)
Tax information
Phone number
A bank account where Amazon can send you proceeds from your sales
Once you have provided all of the information above, you really only have two decisions to make, both of which you can modify along the way.
Do you want to pay a flat monthly fee of $39.99 or do you want to pay on a per product sold basis?

You can pay 99 cents per product sold until it makes sense to pay $40 fee once you have ramped up a bit

What type of products are you going to sell?

There are three general product-type concepts at play on Amazon:
You already have an established brand and you want to take advantage of Amazon's platform and huge customer base
You have a brand new product and you do not want to go through the trouble of creating a website and you just want to market it on Amazon to start
You want to have a buy low, sell high concept and find already existing products that you can purchase either in person or online and promote on Amazon
Getting Started on Walmart Marketplace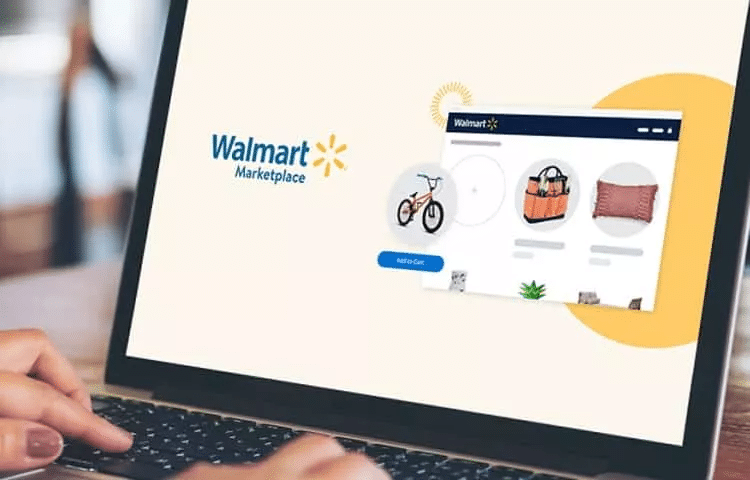 According to Walmart themselves, it will take about a minute to sign up and create a Walmart Marketplace account. This may be technically true, but you will need some information and prep work to complete the following steps after initial sign up.
Once you have an account, you will go on to complete a three-step setup process. The first is verifying your business. For this you will need all of your tax and IRS information, which includes the following:
US Business Tax ID (SSN not accepted)
W9 or W8 and EIN Verification Letter from the Department of Treasury that verifies your US business address or place of physical operations
Address or place of physical operations
US Business address
Next, in order to start selling on Walmart, you will need to tell them where to send your payments for the items you sell. Walmart uses two third-party payment processing partners, Payoneer and Hyperwallet:
If you do not have either of these, you can choose one and sign up during the Walmart marketplace setup process.
There are no registration, setup, or monthly fees associated with selling on Walmart, these payment processing partners help Walmart pay you your profits based on Walmart's pay-out policies.
There are pros and cons to Payoneer and Hyperwallet, and you should be sure to review them if you have not used either before so that you know which one you want to use before signing up.
The third step is configuring your shipping options. In most cases, Walmart uses either the United States Postal Service (USPS) or FedEx for shipping based on size. Here are some of the shipping options you can choose for your products:
Free value (up to nine days for shipping travel time)
Standard
Expedited two or three day
Next day (two days for shipping travel time)
After completion of these steps, Walmart will approve your request. This could happen as quickly as 24 to 48 hours after submission, but be prepared to wait 2 to 4 weeks, depending on the time of year and how many applications they have recently received.
Read More: How to Start Selling on Walmart
Lowest Selling Fees
Situations like size and weight can impact how much you will end up paying for products to sit in both Walmart's and Amazon's warehouses, which may lead you to fulfill, or ship, items yourself. Overall, Walmart charges less fees for selling on their online marketplace, but there are nuances. Below are details about the categories of fees and charges you need to know in order to make a decision as to where you want to sell your items online.
Setup Fees
Amazon
Walmart
No setup fee for applications or registration
No setup fee for applications or registration
Cost Per Item
Amazon
Walmart
99 cents per item sold Or a flat fee of $39.99 per month which comes with added privileges and perks
No per-item fee or monthly fee
Referral Fees
Amazon
Walmart
Approximately 15%, but it varies from category to category and by pricing levelThere are also additional fees to consider when looking at Amazon including FBA referral fees, variable closing fees, storage fees, long term storage fees, and refund administration fees.
Typically 15% across the platformThere are some additional fees on Walmart as well such as storage fees.This means if you ship the items yourself, all you will pay is 15 cents on the dollar to Walmart for each item sold
Best Advertising Options
Amazon and Walmart both offer paid advertising for items that you market on either of their sites. Although Amazon holds the online retailer title, Walmart became number two in 2020, giving their seller platform that much more credibility, so advertising is valuable on each marketplace to get your product in front of buyers' eyes.
One of the main types of advertising is display advertising, and you can do that on Walmart or on Amazon. Display advertising will allow you to gain market share, using the large audiences on either platform. Both Walmart and Amazon use PPC or pay-per-click metrics for their paid ads. This means that a paid search does not cost the seller money until it generates clicks. To optimize these campaigns, it's best to use a monitoring dashboard or software tool to help you get the most out of your advertising on each site.
Overall, you will most likely pay less for advertising on Walmart due to the way the click bid system works on each. However, you will get more visibility on Amazon, based on the number of visitors the site gets each day. Below are a few more facts about each marketplace's advertising options.
Advertising on Amazon
Even with Walmart becoming the number two online retailer, Amazon still holds an 8:1 market share ratio. More people visit Amazon online, which means there are more potential buyers to see your ads.
Amazon allows you the ability to promote your overall brand better, target product attributes (not just keywords), and offers more places where your ads can show up throughout the customer experience.
Read More: Best Amazon PPC Management Tools
Advertising on Walmart
Walmart has the benefit of over 11,000 brick-and-mortar retail stores. This contributes to their advertising program because seeing a physical store reminds people to shop at their online store, too.
Walmart also has an entire grocery delivery section, ties with Instacart, and provides more free shipping options. This helps promote products from any retailer on the site.
Tip: One of the most powerful and comprehensive tools on the market for optimizing Walmart Marketplace sales is Helium 10. While Helium 10 is often known for driving results for Amazon sellers, it offers similar capabilities on Walmart.com as well. Helium 10 users can conduct keyword research, track keyword performance, conduct financial analysis, and much more. Sign up today with our exclusvie link below for 20% off your first 6 months.
Better Fulfillment Services
Both Walmart and Amazon offer fulfillment services as well as the option for sellers to ship products on their own. They both also have speedy shipping and easy fulfillment options. Amazon may be a touch more expensive than Walmart, but the cost difference is pretty minimal compared to some of the other perks. Here are a couple key differences between the fulfillment services for each marketplace.
Fulfillment By Amazon (FBA)
FBA is much more well known than Walmart's fulfillment service. It is offered to anyone who is approved to sell on Amazon's marketplace. Amazon will allow you to ship items up to 150 pounds using FBA. Fulfillment prices start at $2.50 and $3.45 for the lowest weighted items. However, you will also have to pay the $39.99 Amazon flat fee or 99 cents per product sold for the service. You can also pay a flat fee for storage fees. One thing to note is that Amazon may have you ship the products you are selling to multiple locations for them to provide fulfillment.
With Amazon Prime, your products may fly off the shelves more quickly if you sell them on Amazon. Prime members get free shipping options on a lot of products on the site, plus a good number of additional benefits, like Amazon's streaming service. That means your item could reach the customer as quickly as needed without extra lift on your part.
Walmart Fulfillment Services (WFS)
Only select sellers can join Walmart Fulfillment Services (WFS), as they favor experienced vendors. If you are eligible, WFS allows sellers to ship up to 150 pounds and fulfillment prices start around $3.50 to $4.95 for the lowest weighted items, but there are no additional yearly fees on Walmart for these services. You can also pay a flat fee for storage which is cost effective. Plus, Walmart will only have you ship your items to one of their fulfillment centers instead of multiple locations.
Walmart has multiple free shipping and quick ship options too without stipulations of an annual membership, like Prime. Each one allows customers to get products as quickly as they would like, with Walmart providing more free and paid shipping options than Amazon.
One thing to remember is that sellers who fulfill their own orders often can reduce any potential fees like referral fee and cost-per-item fee, which for Walmart is already zero.
Walmart+ vs. Amazon Prime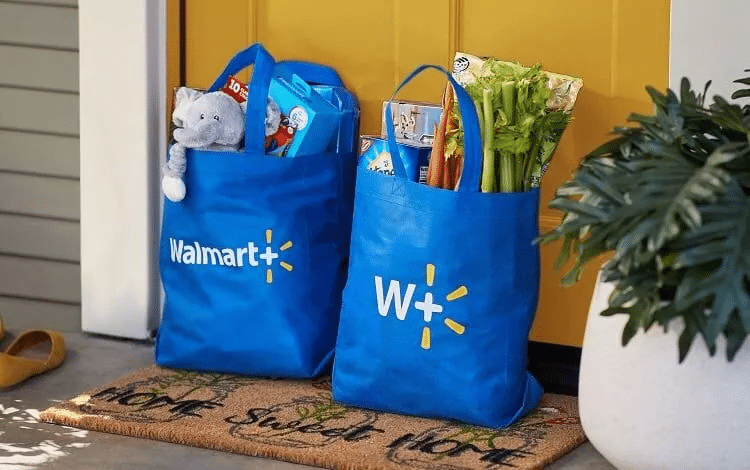 Amazon also offers a monthly subscription model called Amazon Prime and Walmart Marketplace has a similar program called Walmart+. 68% of all US customers have an Amazon Prime membership. In contrast, 17% of Americans that shop from Walmart Marketplace have a Walmart+ membership. Amazon Prime members enjoy quick delivery services. Most of the products with the Prime tag are delivered for free. It is not easy to get your product under the Amazon Prime program. If you are a seller, your reputation must be on point.
Seller-Fulfilled Prime can be used by sellers who have excellent order history. Even though the prices may be high, sellers with the Prime Delivery tag sell more products. It would be best to take care of product availability, reviews, returns, and customer ratings in order to be in the Prime program.
Walmart also scrutinizes the seller before allowing them to be a part of Walmart+. Just like Amazon, Walmart Marketplace requires sellers to maintain a good number of sales. In addition, they should provide excellent customer service. Sellers should also make sure that their products have above-average ratings. Reviews are thoroughly checked for Walmart+ eligibility.
Amazon Prime costs $119 for a year. Walmart+ is much cheaper than Amazon Prime. It costs $98 per year. When it comes to monthly costs, there isn't much of a difference. Amazon Prime costs $12.99 per month. At the same time, Walmart+ costs $12.95 per month. With Amazon Prime, you get a 30 Free Trial. Walmart+ also offers a free trial for 15 days.
Walmart+ offers same-day delivery for grocery orders over $35 and up. In addition, if buyers order any other product on Walmart+, they enjoy free delivery. With Amazon Prime, the free delivery differs from product to product. But they offer same-day delivery for orders over $35.
Amazon Prime offers 3 million products for same-day delivery. It also lets you access the Prime Video Streaming service. Customers can enjoy far more benefits with Amazon Prime as well.
Walmart+ provides same-day delivery for 160,000 products. However, Walmart+ offers no streaming service. Both e-commerce stores deliver groceries.
One plus point of Walmart+ is that it gives a discount on fuel. Amazon Prime provides no such deal.
Further reading: Amazon FBA Vs FBM.
Successfully Selling on Walmart or Amazon Marketplace
There will always be stumbling blocks and difficulties when it comes to getting started and progressing on either of these marketplace platforms. Here are some of the main challenges posed by each.
Walmart has:
A lower profit margin; Walmart's philosophy is all about customers saving money
Shipping and customer support, which may cost you more money
Listing issues
Strict rules on pricing
Amazon has:
Entry barriers; The first challenge begins before you even get up and running, especially when it comes to reselling specific categories and brands, for which you need approval
Daunting competition
High standards for crafting the perfect listing
Visible product reviews and seller feedback, so if something goes wrong it will be displayed
Returns, which may cost you more money
Taxes
Restricted products
Even though these seem like a lot of challenges, they are fairly minimal once you are started and used to selling on each platform. However, in order for any vendor to scale up business and sales, you will need a well-rounded approach including advertising, market analysis, and managing multiple channels.
Finding a sales tool that integrates with your marketplace can be very helpful, regardless of how much previous online sales experience outside of Walmart or Amazon you may have. Here are some to try based on the platform you choose and the size of your business:
Helium 10 optimizes and monitors your products on Walmart Marketplace
Jungle Scout is a great option for getting started and scaling on Amazon Marketplace, with similar optimization and monitoring tools that increase your paid advertising effots
Intentwise is good for large-scale sellers with an Amazon budget of $5,000/month or more
FAQs
Is it easier to sell on Walmart or Amazon?
It is easier to get started on Amazon, but there is less competition on Walmart.
Can you sell on both Amazon and Walmart?
Yes, you can absolutely sell on both platforms, and many online sellers take advantage of each platform as part of their overall strategy.
Is selling on Walmart profitable?
Yes, and statistically speaking, 95% of online vendors are profitable, while 73% have profit margins over 20% (JungleScout).
Who offers a better customer experience?
As per the American Customer Satisfaction Index, Amazon ranks amongst the top 5 retailers.
Amazon is obsessed with customer satisfaction. Its quick return policies and one-day deliveries have won the hearts of customers. The company's main motto is to keep the customer happy. With the launch of Amazon Prime, customers can enjoy free return policies and free deliveries.
There is nothing more satisfying than free delivery. Amazon knows exactly what the customers want. Therefore, they constantly improve the customer's shopping experience.
Walmart provides good customer support in stores, but it is still new to the e-commerce market. When it comes to customer experience, it is not even close to Amazon. Walmart has an ACSI score of 75.
The minimum score should be 73. The brand is way behind in terms of customer satisfaction. They are slowly growing their online presence. As the brand becomes well acquainted with online retails, their customer experience will also improve.