It's true that Amazon does sell and fulfill many of its orders, but a lot of the items on the website are sold by third-party sellers, brands, and other merchants.
Sometimes, trying to find something specific on Amazon is like trying to find a needle in a haystack. Have you ever been scrolling through endless reams of products on Amazon, found something you like, and made a note of the seller, but you cannot seem to find it again? Luckily, we can help you as there are a few ways that you can do this. So, how do you find a specifi…" with "This can make locating that must-have item or finding related items even quicker and easier.
How To Find an Amazon Seller
Amazon has a very comprehensive search engine that can direct you to all kinds of products from all over the globe. However, it can sometimes be unclear how to find specific sellers and merchants or brands.
With over 9.7 million sellers across the Amazon platform, it comes as no surprise that you might be in search of a specific one, and struggling to find it. 
To help make your shopping experience easier, we have got a few tips and tricks that you can use to help you find your seller within an instant. 
Identifying an Item's Store and Seller
You may have assumed that all of the items you're browsing on Amazon are sold by the site. However, a closer look can easily show you who the actual seller is and the store the product belongs to.
On a product listing, just under the product title, you should see a hyperlink in blue that highlights the name of the store.  When you click on this hyperlink, it should take you to the storefront's page, which will display all of the available products and items for sale in that specific Amazon store.

Alt: link to Amazon storefront marked
Sometimes, a single seller runs multiple storefronts. In that case, the name of the seller is often different than the name of the storefront. The seller's name can be located near the bottom of the purchasing options. Clicking this can allow you to see all of the products that seller offers across any storefronts they run on the marketplace.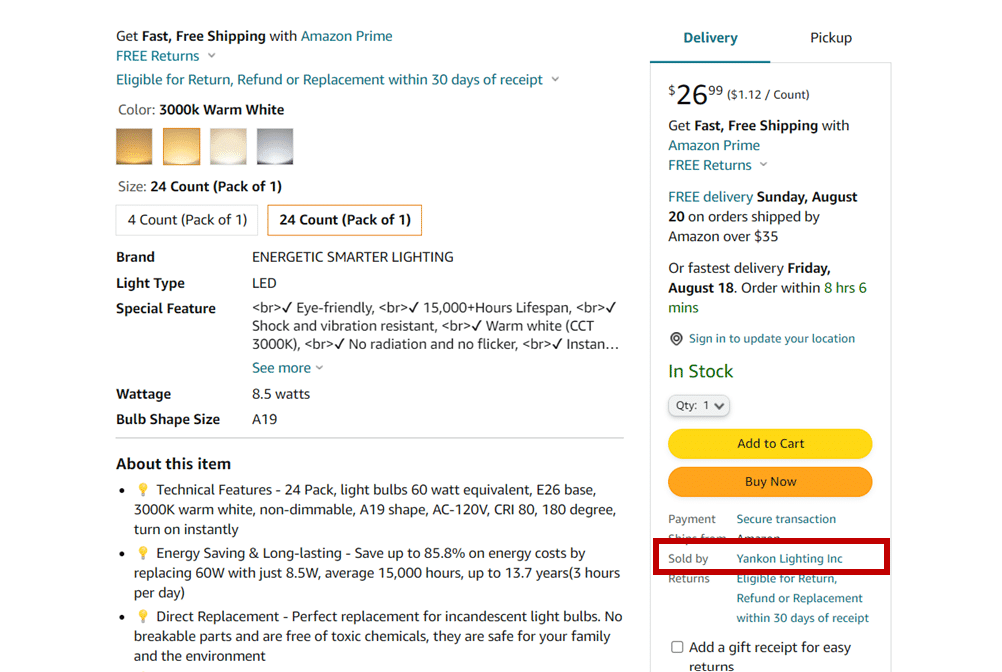 Finding A Seller Through The Search Bar Method
Once you know about a specific seller, one of the simplest ways that you can locate them is by using the search bar. Simply head to https://amazon.com in your web browser. Then, go to the top of the page to find the Amazon search bar, and type in the seller name.
Once you have done this, you'll need to click the search button, which looks like a magnifying glass. 
Then, you'll see a results page, which should display a range of products, including some items from the seller you searched for, and some for alternative brands and similar products that may be helpful as well. 
Using The Amazon Storefront Name
Sometimes the names of storefronts are more memorable than seller names. If you know the name of the seller already, but you can't remember it exactly, then you can simply use the store name to search for them. 
To do this, you will need to use the Amazon URL, which is https://www.amazon.com/ and you will then need to add /shops/insertstorenamehere to find your store name.
This should direct you right to the seller's storefront so that you can see all of the products that are available and on offer. If you find that you are visiting a specific storefront time and time again, you can add the link to your bookmarks for more efficient shopping.
Then, you can simply click on the store name via the links next to the products that say Ships From, or Sold By. This will take you straight to the seller and merchant page for that brand.
You will then be able to see their ratings, reviews, and all of the information about that particular seller.
Browsing Departments For Sellers
Another alternative way that you can search for a seller is through the department's list and by browsing the brand names.
This method is perfect if you're not quite sure what the seller's name was, or what the particular merchant was called. So, what you can do is select Shop By Department, at the left of the Amazon product search bar.
Then, you can type in what product you are looking for, so say for example you are shopping for a Laptop, you can type in 'laptops'. Then, you can select the Computers department from the drop-down list for example. 
Once you press the search button, you will be diverted to the Computers department, and shown a list of laptops and related products. Then, if you look to the left sidebar, you will notice that there is a Seller heading, or you can choose Featured Brands.
Then, you will be able to check the tick boxes for the particular seller whose products you wish to view, and you can find the right item with simplicity that way!
Searching For A Featured Amazon Seller
Finally, you can find a seller in a very simple manner by using the search engine on the Amazon page itself. This can help you quickly narrow down your search for the seller that you want. To do this, you'll need to use the search engine at the top of the Amazon homepage. 
When you search for a specific product, you will type in the search bar, and you can select enter, and wait to see what results come up.
If the merchant or seller that you are looking for is a featured seller, then it will appear at the very top of the search results, so you can find them easily and click on the brand's storefront to visit their page.
There, you will find all of the products that they sell, and you can find your desired item from that seller's merchant page. 

Contacting an Amazon Seller
Navigating the vast world of Amazon shopping can sometimes lead to questions or concerns about a product. In such instances, contacting an Amazon seller directly can be the most efficient way to get the answers you need. In this guide, we'll explore why and when you might need to reach out, how to contact a seller on Amazon, and what to expect from the communication process.
Why and When to Contact an Amazon Seller

There are several reasons you might consider contacting an Amazon seller:
Product Inquiries: Before making a purchase, you might have specific questions about a product's features, sizes, or other specifications that aren't clearly mentioned in the product description.
Shipping Concerns: If your order is taking longer than expected, or if you want to know more about the shipping process, the seller can provide clarity.
Returns and Refunds: In case you're not satisfied with a product or if it arrives damaged, reaching out to the seller can help you understand the return and refund policies.
Feedback or Reviews: If you've had a particularly good (or bad) experience with a product, you might want to communicate this directly to the seller.
How to Contact a Seller on Amazon

Contacting an Amazon seller is a straightforward process:
Go to the Product Page: Navigate to the product page of the item in question.
Locate the Seller Information: On the right side of the product page, you'll find the "Sold by" section. This displays the name of the seller.
Click on the Seller's Name: This will redirect you to the seller's profile page.
Click on 'Ask a Question': On the seller's profile page, you'll find a button or link labeled "Ask a question" or something similar. Clicking on this will allow you to send a direct message to the seller.
What to Expect from Communications

When you're contacting an Amazon seller, here's what you can generally expect:
Prompt Responses: Most sellers are keen on maintaining a positive reputation and will typically respond within 24-48 hours.
Professionalism: Sellers on Amazon are expected to maintain a level of professionalism in their communications. Expect clear, concise, and respectful interactions.
Resolution: Whether you have a query, concern, or feedback, sellers will usually aim to provide a solution or answer to ensure customer satisfaction.
To summarize, it can be super irritating when you know of a seller on Amazon that you like, or have bought from before, but you can't seem to find the item when you search for it. There are millions of sellers on Amazon, so finding your specific one can prove to be a little bit difficult.
Luckily, there are simple ways to find specific Amazon sellers.
You can either search for your desired product, and optimize your search by selecting sellers and brand names via the department's tab, or search for a seller, pick a product, and look for the Sold By button to find the seller, click on it and visit the seller or merchant's page. Alternatively, you can always add the seller's name to the Amazon URL to find a seller quickly and efficiently, but that's only if you already know the seller's name! With so many sellers and merchants on Amazon, you can find the ones you know and love in just a few clicks!