The Amazon marketplace is constantly growing and evolving, and that includes how the site's algorithms analyze product listings. This means that manually creating fully-optimized listings can be time-consuming and ineffective. Fortunately, with Jungle Scout's Listing Builder tool, you get data-driven assistance in crafting and optimizing your product listings.
In a competitive landscape like Amazon, seemingly small details like product listing optimization can make or break your success. Without a strong strategy, your visibility could be impacted, making it challenging for shoppers to even find your product. Plus, a well-optimized listing can help boost your conversion rates and correlate to better overall sales. So, here's how the Jungle Scout listing builder can help you achieve all of this.
Understanding the Jungle Scout Listing Builder
Before you jump into using this helpful tool, it's important to understand what it is and how its features can benefit your business. The Listing Builder is designed to be a comprehensive, all-in-one solution to drive your listing creation strategy. This intuitive tool streamlines the process and assists you in creating product-related content that's technically optimized while also being engaging to shoppers.
First, the Amazon listing builder recommends a data-driven list of relevant keywords. Using proprietary AI technology, the tool integrates these keywords to boost your search rankings and organic traffic rates. And this continuous optimization process can translate into stable, long-term sales growth.
The key features and capabilities of the Listing Builder
There are some key features that are all integrated into the listing builder. And the best part is, they are simple to use and conveniently located.
Keyword research
The intuitive keyword bank allows you to search and filter your product's relevant keywords by their search volume. You can easily pinpoint any gaps in your strategy and identify keywords you've overlooked in your listing.
Competitor analysis
Why not use what's working for your competitors to drive your own strategy? With the listing builder, you use the ASINs from other listings to instantly analyze their keyword strategies and identify successful ones that you can also implement.
Listing optimization suggestions
As you're building your listings, the tool will analyze the components and provide you with recommendations in real time. Then, as you make adjustments, it will continue to score your listing so you can see instantly how it improves.
All of these features combine to allow you to optimize your listing on one seamless dashboard. This allows you to make highly effective and competitive product listings efficiently and effortlessly.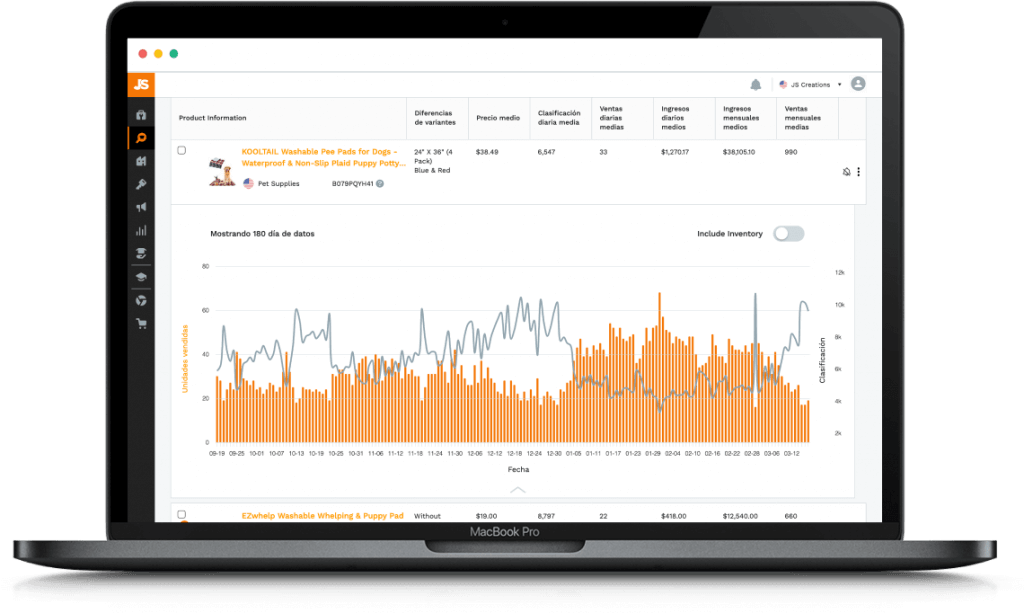 Supercharge your Amazon FBA businesss
Click here to get an 80% discount on the best FBA seller features from JungleScout!
User-friendly interface and ease of navigation
The reason the Jungle Scout suite of tools is relied on by so many Amazon sellers is the ease of use, and the Listing Builder is no different. The tool was designed with both new and seasoned sellers in mind. So no matter your experience level, you can quickly learn to use the listing builder and immediately begin benefiting from its features.
The dashboard features familiar functions with a user-friendly layout. This makes navigation and visualizing data quick and easy. Keywords are simple to sort and filter with drop-down boxes. Color coding makes it easy to identify priority keywords and interpret your listing score. Plus, you can seamlessly sync with Amazon to update your changes without any additional steps.
How to Build an Amazon Listing Using Jungle Scout
Fortunately, the listing builder and its AI features take the guesswork out of using it. It just a few simple steps, you can have fully-optimized listings, ready to go live.
Generate keyword ideas for product listing optimization
The Listing Builder allows you to import your keyword list and easily see them ranked by their search volume. AI and data-driven technology pinpoints their rankings and identifies related keywords you may be missing in your listings. You can then use the sort and filter tools to prioritize their usage for various needs and objectives. Then, the AI Assist feature integrates the keywords into your title, description, and list of features. 
Crafting compelling product titles and descriptions
While the listing builder uses data to craft listings, it does it in a customer-friendly way. By crafting engaging titles and descriptions, you can draw buyers in and encourage conversions with your listings. The intuitive nature of the tool strikes the ideal balance between authentic tone and keyword richness.
Analyzing and comparing competitor listings
When you have a lot of competitors, it can be tough to stay on top of their strategies. Using the tool, you can use competitor ASINs to quickly analyze their listings. This allows you to identify opportunities to differentiate your listings and present your products in a more strategic way.
Finalizing and publishing optimized product listings on Amazon
The listing builder streamlines publishing and updated your product listings, thanks to reliable syncing functionality. With the touch of a button, your listings can go live, instantly ready to be viewed by Amazon shoppers. The tool also features an auto-save function, so if another aspect of your business urgently pulls you away, you know that your work won't be lost when you return.
How AI helps with the Jungle Scout Listing Builder
The AI features in the listing builder allow you to take advantage of the most cutting-edge technology. First, it allows the tool to analyze vast amounts of data and generate optimal keyword suggestions. It also automates competitor analysis to provide you with data-driven recommendations. The dashboard's Optimization Score uses AI feedback to determine the quality of your listing as you're making changes in real-time. And, the AI Assist generates well-written and compelling copy using relevant keywords.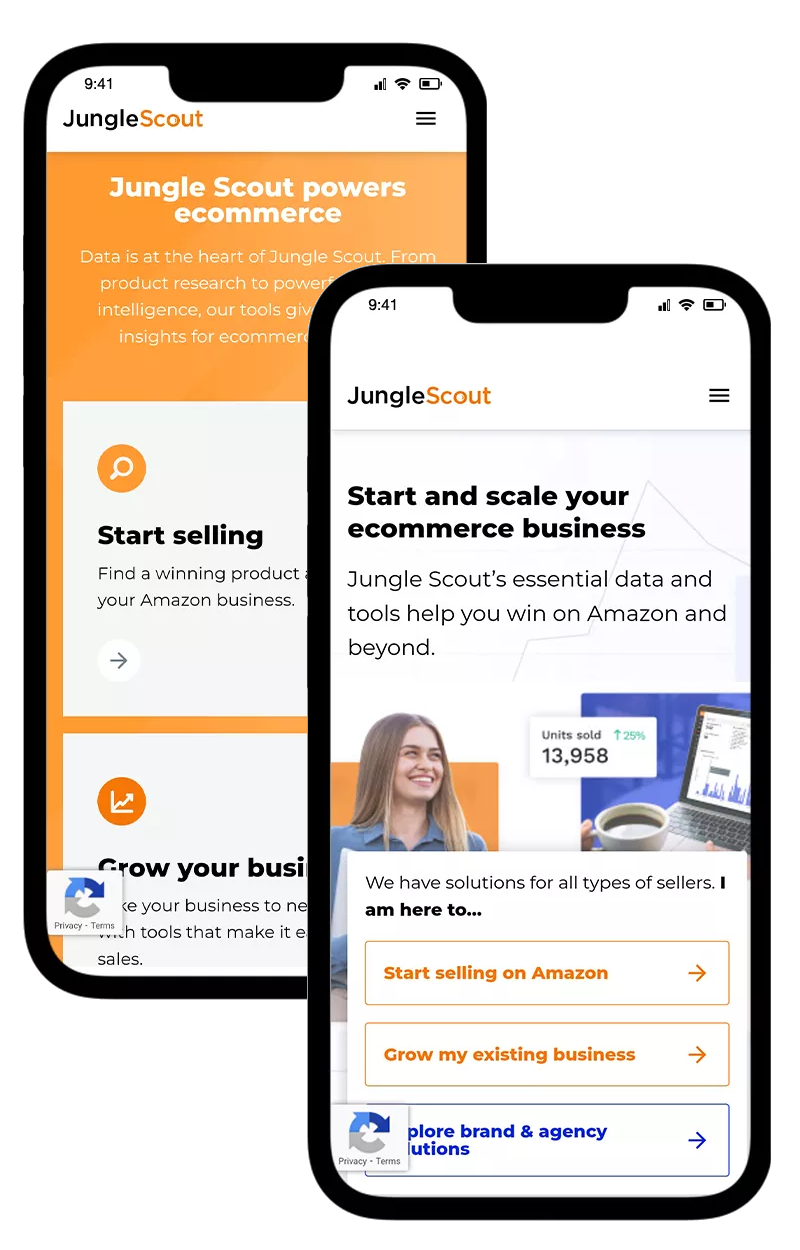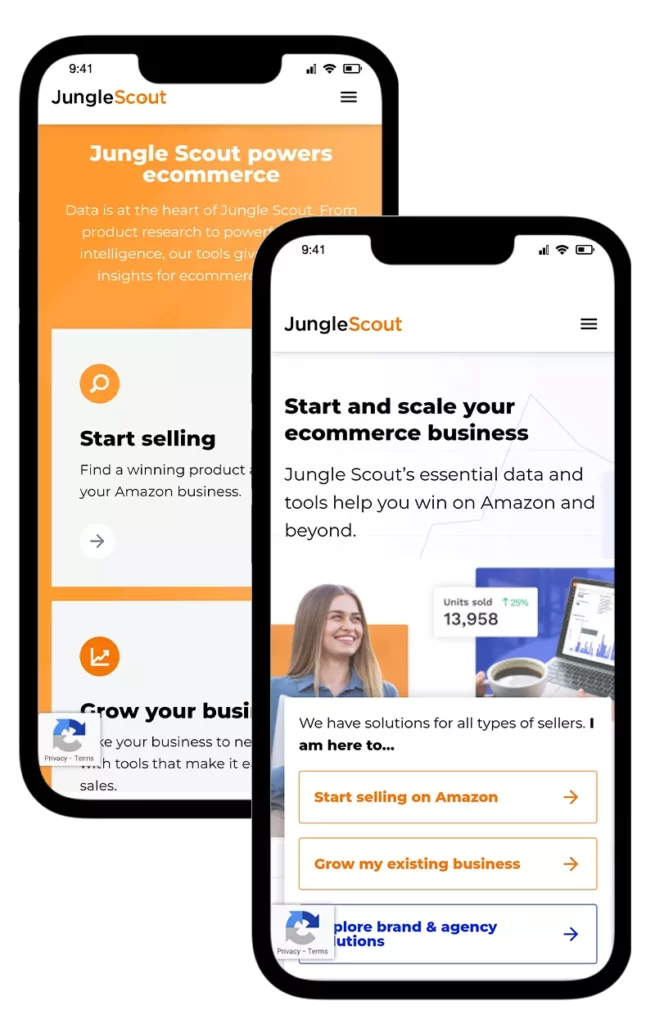 Save time & money while selling on Amazon FBA
Get an 80% discount from JungleScout today! – LIMITED-TIME DEAL
Benefits of the Jungle Scout Listing Builder
The Jungle Scout Listing Builder offers multi-faceted benefits to sellers including efficiency, insightful data, and increased sales potential.
Enhanced visibility and discoverability on Amazon
One of the biggest challenges of Amazon selling is getting your product discovered by shoppers. The listing builder can help improve your search rankings, making it more likely that buyers will find your products. These optimized listings can also help spur organic traffic and provide customers with the information they need to make a purchase.
Increased conversion rates and sales potential
Online shoppers aren't able to physically see and touch an item, so they need clear, concise, and accurate information to make a product decision. With an optimized listing featuring persuasive titles and engaging descriptions to encourage conversion. The tool also presents value propositions to buyers in a way that demonstrates the benefits of your specific products.
Improved search engine rankings and organic traffic
With the Listing Builder, your listings are optimized for Amazon's algorithms as well as those of search engines. This means that your listings can rank higher in search results, helping you capture organic traffic from sites like Google, and translating into increased sales.
Streamlined listing creation process and time-saving advantages
Time is money, especially when you're trying to build an Amazon sales business. With a tool to streamline your listing creation, you can focus on other priorities like sourcing and customer service. Plus, with the tool's intuitive recommendations and guidance, you can quickly create listings without sacrificing quality.

Real-time data and insights for data-driven decision-making
Data analysis can be time-consuming but provides you with key info. However, the tool's AI capabilities automate this process and provide you with valuable insight into your listing's effectiveness, keyword trends, and competitor performance. This can all help you make more informed, data-driven decisions when it comes to your listing optimizations.
The Jungle Scout Listing Builder is a valuable asset in creating optimized listings — and efficiently. Not only is it user-friendly, intuitive, and versatile, but it uses groundbreaking AI technology for powerful decision-making. Plus, when combined with the rest of Jungle Scout's tools, you have everything you need to grow your Amazon sales in one place. Try the Listing Builder and see for yourself how you can improve your product listings using top-notch technology.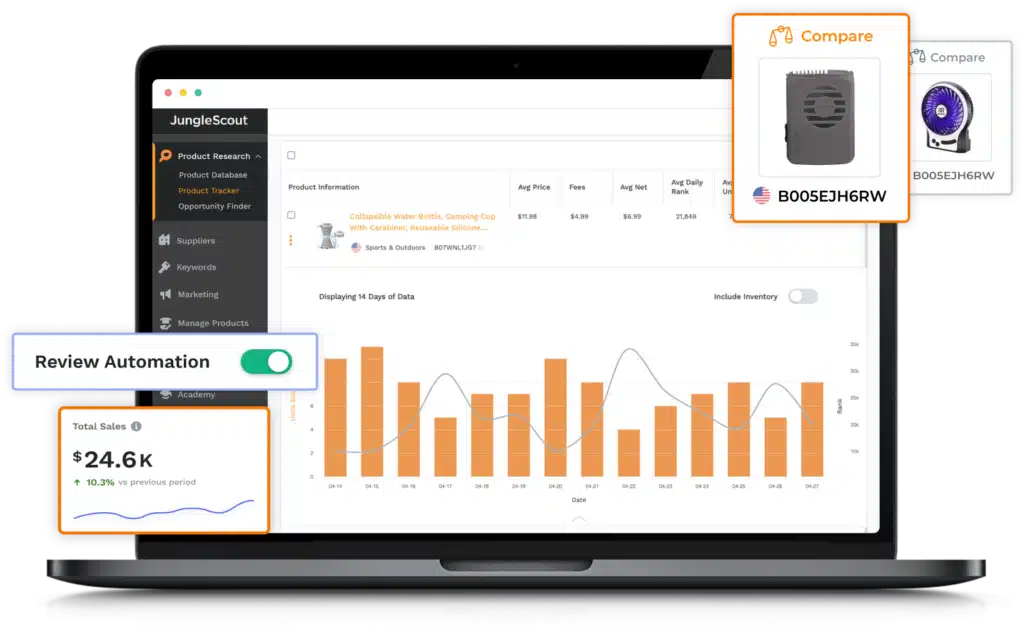 Want to boost your profits and streamline your Amazon FBA business?
Get 80% OFF on JungleScout and take your business to the next level today!