It's no secret that Amazon has been a game changer in the world of ecommerce. Not only has it put millions of products at the fingertips of customers but it's also presented many with growing opportunities to join the ranks of online sellers. Whether you're just starting out on the marketplace or you've been selling for a while, you know that the competition is fierce. And this means that product tracking is a vital part of your success.
Jungle Scout's Amazon Product Tracker can help you gain key insights into various products and their performance. It allows you to make data-driven decisions about your current product offerings, as well as future ones. With powerful Amazon product tracking software in your corner, you can create sales strategies for long-term success.
Unveiling Jungle Scout Product Tracker
In a competitive space like Amazon, getting the edge you need to succeed can feel daunting. With this Amazon Product Tracker, you can gain the insight you need to make precise decisions to stay ahead of your competition.
Amazon product tracking allows you to use past data to make decisions about future product offerings. You can perform market research and analyze competitors' sales so you can identify in-demand product options. You can also use the data to determine your pricing strategy and predict the possible profitability of items. All of this allows you to stay ahead of the competition and be the first to adopt new products and sales strategies.
The Product Tracker's key features
Jungle Scout's Amazon Product Tracker offers a few key features that give you a comprehensive overview of your market landscape. 
Sales tracking
With the tool's sales tracking feature, you get a detailed look into real-time data. Not only can you see how many units have sold, but you can also see pricing and where a product ranks. So, whether you are considering a new product or testing out a new category, you'll have relevant data to make an informed decision.
Competitor analysis
When you're tracking sales, you can see what products and sellers are moving more units and ranking higher. This allows you to analyze their strategies like pricing and product selection, giving you more understanding of the market and a competitive edge.
Market research
The easy-to-interpret data that the product tracker provides can help you identify market trends. This can also assist you in identifying possible niches that can be profitable for your business.
Pricing intelligence
Tracking the pricing strategies of competitors allows you to be more strategic when it comes to your own. Plus, with constant monitoring and updated data, you'll know when it's time to shift your strategy to remain competitive. 
Inventory monitoring
Stay on top of inventory numbers and avoid stock-outs or costly overstock fees. Plus, you'll be able to analyze inventory trends to identify stagnant products.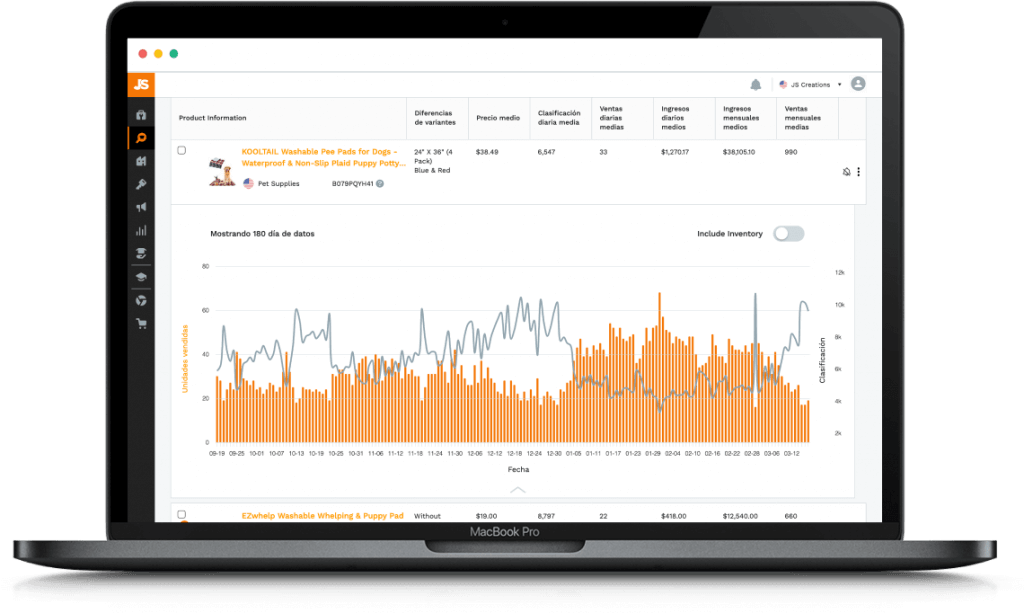 Supercharge your Amazon FBA businesss
Click here to get an 80% discount on the best FBA seller features from JungleScout!
Harnessing the Power of Jungle Scout Product Tracker
The powerful technology behind this Amazon product tracker can mean big things for your business, and best of all, it's super simple to get started.
Getting started
1. Set up a Jungle Scout account
First, you'll complete the easy sign-up process to begin your free trial. Not only will this allow you to see how beneficial the Product Tracker is, but you'll also get to explore the whole suite of Jungle Scout tools.
2. Link your Amazon seller account
One of the best perks of Jungle Scout is the seamless integration with your Amazon account.
3. Grant the necessary permissions and access
This allows your Jungle Scout account to collect data and instantly begin analyzing it to give you key insights.
Demystifying the data collection process
Using top-tier technology, Jungle Scout collects, analyzes, and organizes key metrics so they can benefit you as a seller. With advanced algorithms, the tool gathers data from Amazon's API. Everything from product performance and sales metrics is carefully analyzed and presented in a clear way for sellers to make informed decisions. Data regarding rankings and reviews is also collected to provide insight into consumer behavior.
Then, the data is organized into charts, graphs, and other easy-to-read visuals on the Jungle Scout platform. This allows sellers of all experience levels to benefit from the information. Plus, you can sort and filter many of the data sets, pinpointing the information that's most relevant to your specific needs.
Unleashing the potential
Using this data to make informed decisions is how you can get an edge over your competitors. You can carefully analyze sales performance and pricing history to select profitable products and optimize your own prices.
The data gives you valuable insight into consumer behavior and market trends. Identify the seasonality of items so you can select products and order inventory accurately. You can also monitor reviews and ratings to improve satisfaction and improve product offerings. And by tracking the keywords shoppers are searching for, you can optimize the visibility of your listings and improve your SEO strategy.
Insider tips and best practices
Amazon product tracking with Jungle Scout can be an integral part of your Amazon sales journey. It allows you to select products more effectively and gives you an inside look into valuable data to craft your strategy. Continuous improvement allows you to keep growing your business and you can benefit from the Product Tracker no matter what stage you're in. 
With custom alerts, you can automate your monitoring and focus on your other priorities as a seller. These will let you know if you need to pivot strategies due to changes in sales trends or rankings. And you can combine the data from your Amazon Product Tracker with other market insight resources. This will allow you to be the first to identify emerging trends or profitable market niches.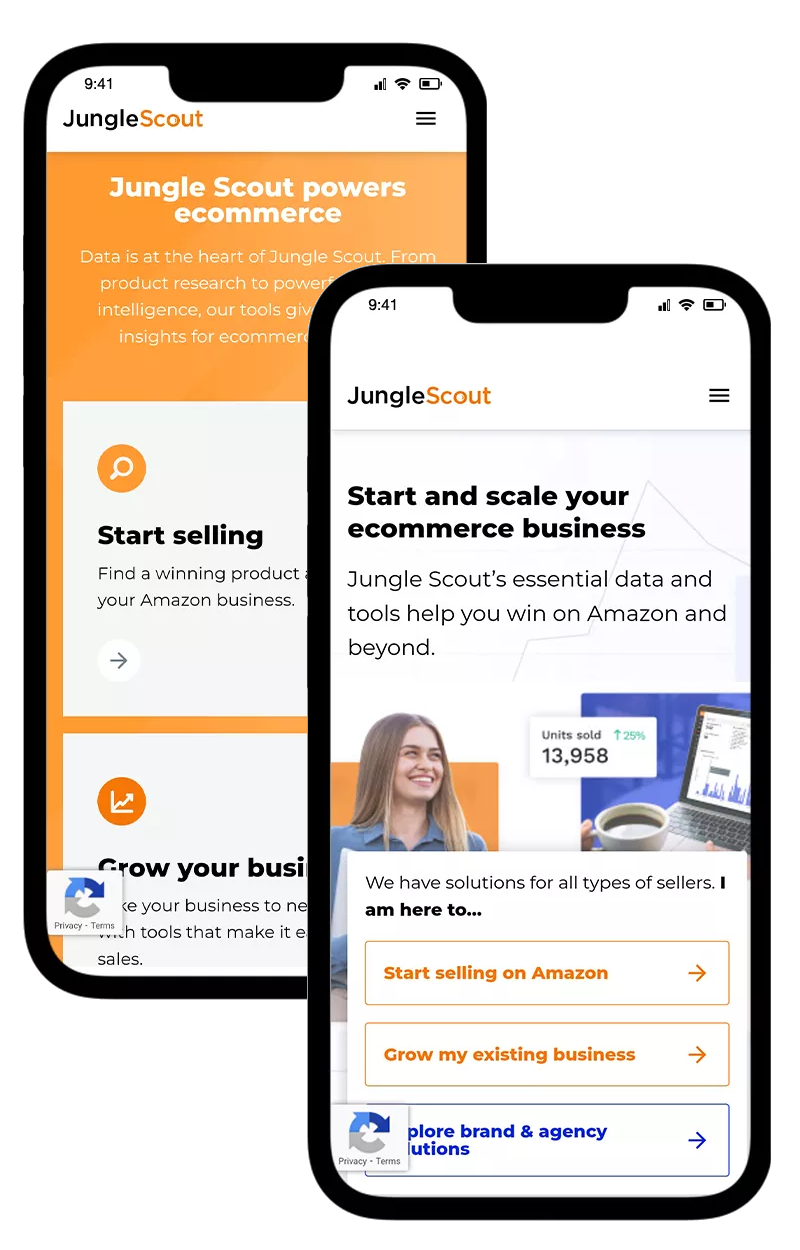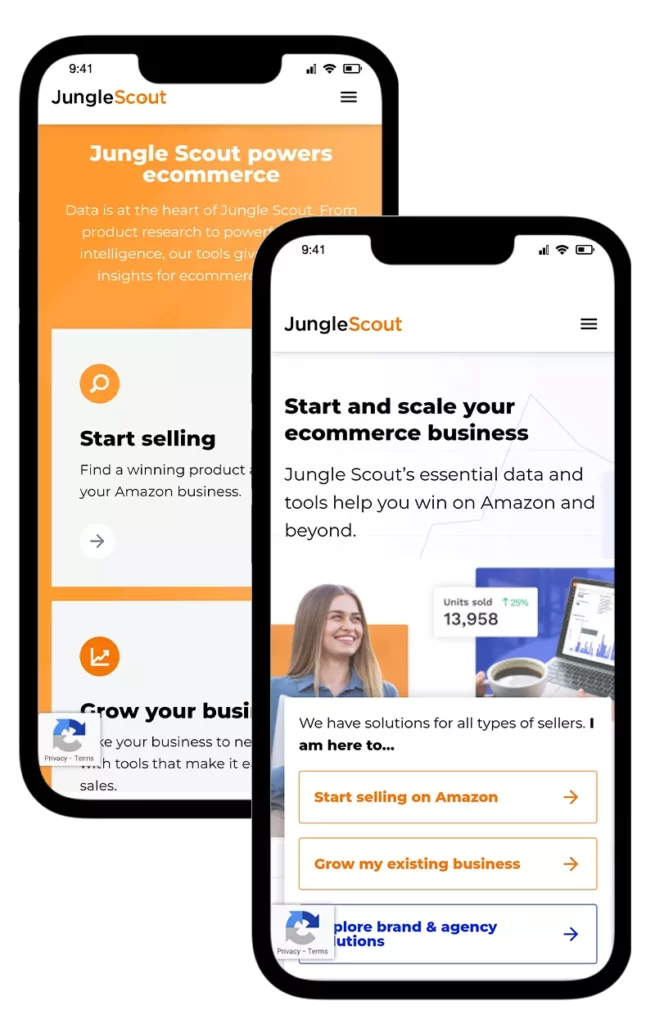 Save time & money while selling on Amazon FBA
Get an 80% discount from JungleScout today! – LIMITED-TIME DEAL
Choosing the Right Plan for You
As an Amazon product tracking software designed for all levels of sellers, Jungle Scout features a selection of plans for various needs.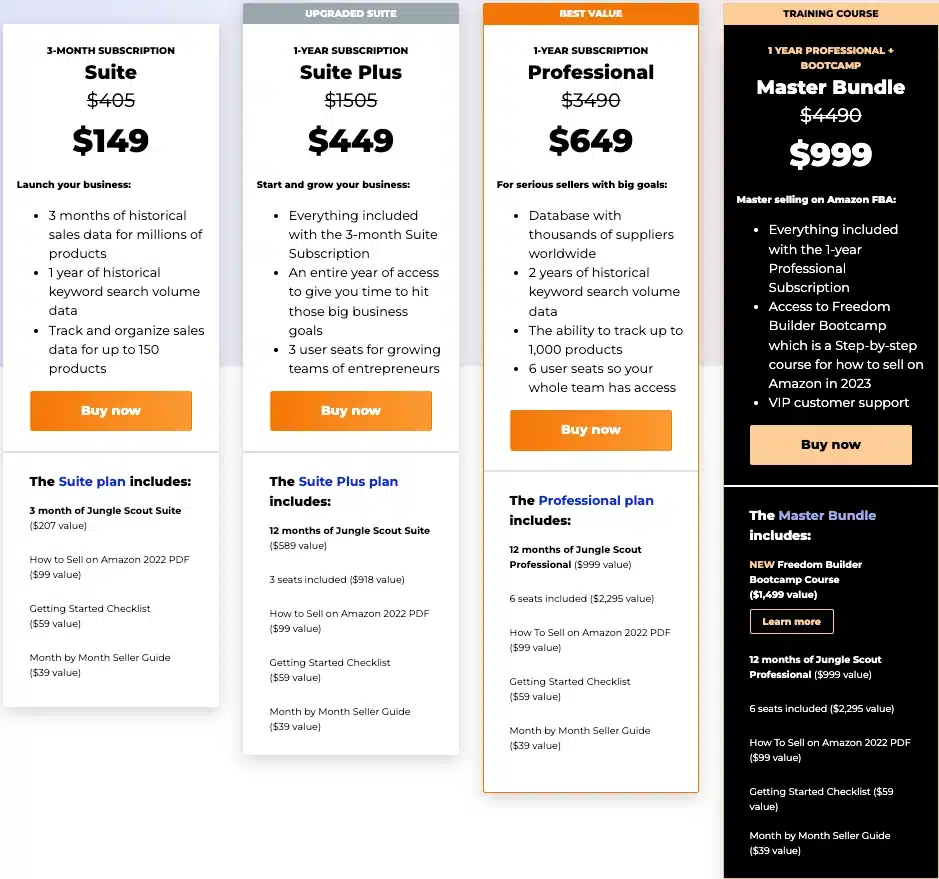 Understanding Jungle Scout's pricing structure
With three distinct tiers, you can choose the most cost-effective plan for your needs. When it comes to The Amazon Product Tracker, the difference between the plans directly correlates with the number of products you can track. With the Basic Plan, you can track up to 20 products, and with the popular Suite Plan, you can track up to 150. If you need more robust research capabilities, you can opt for the Professional Plan, allowing you to track up to 1,000 products at a time. 
Alternative product trackers
There are a few other Amazon product tracking software on the market that offer similar benefits. However, many don't feature an interface as intuitive and easy to use as Jungle Scout's. Some also don't have the reliable integration with Amazon that Jungle Scout offers. And another huge benefit specific to Jungle Scout's Product Tracker is that you can use it in conjunction with the rest of the platform's tools for a holistic approach to your Amazon sales.
Takeaways
With the Jungle Scout Product Tracker, you have access to incredibly insightful data from the vast marketplace. And it's all conveniently organized on a simple dashboard in easy-to-interpret ways. This information can be the best tool you have to make smart and informed product decisions. Sellers can use the power of Jungle Scout Product Tracker to embark on their Amazon journey and bolster their long-term success.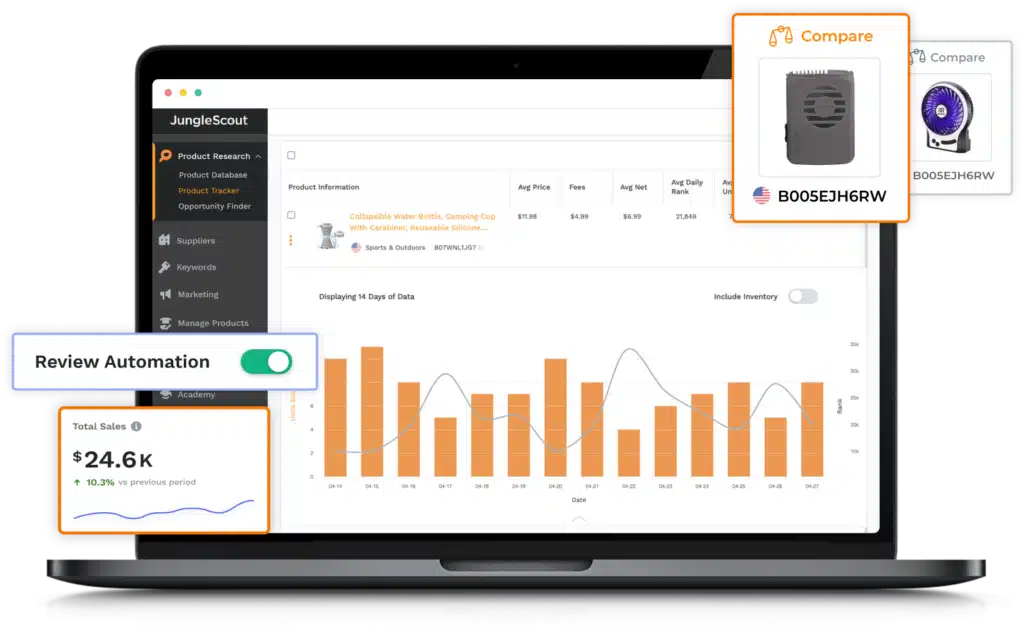 Want to boost your profits and streamline your Amazon FBA business?
Get 80% OFF on JungleScout and take your business to the next level today!