The thing about MerchantWords is the price. When you decide to set up a FBA business, the idea behind it is to have as little in the way of overheads as possible. But the most popular MerchantWords subscription plan costs well over $100. And that is not what you need. Certainly at least when you first set up.
But there's something that's much worse than that. And that's not having any Amazon keyword research tool at all. If you go into this business blind, you won't get very far at all.
Thankfully, there are some cheaper alternatives to MerchantWords out there, including one free one, and some of them are actually pretty good. We've been checking out some of the best ones and have hand picked our top few favorites to review for you here today.
But we get that choosing one can be tricky, which is why we have also put together a brief guide on what to look for when choosing one. It's a handy little checklist.
Then we're going to top that off with a section where we answer some of your most frequently asked questions on the subject.
And without further ado, let's get started.
In a hurry? Check out our number one pick!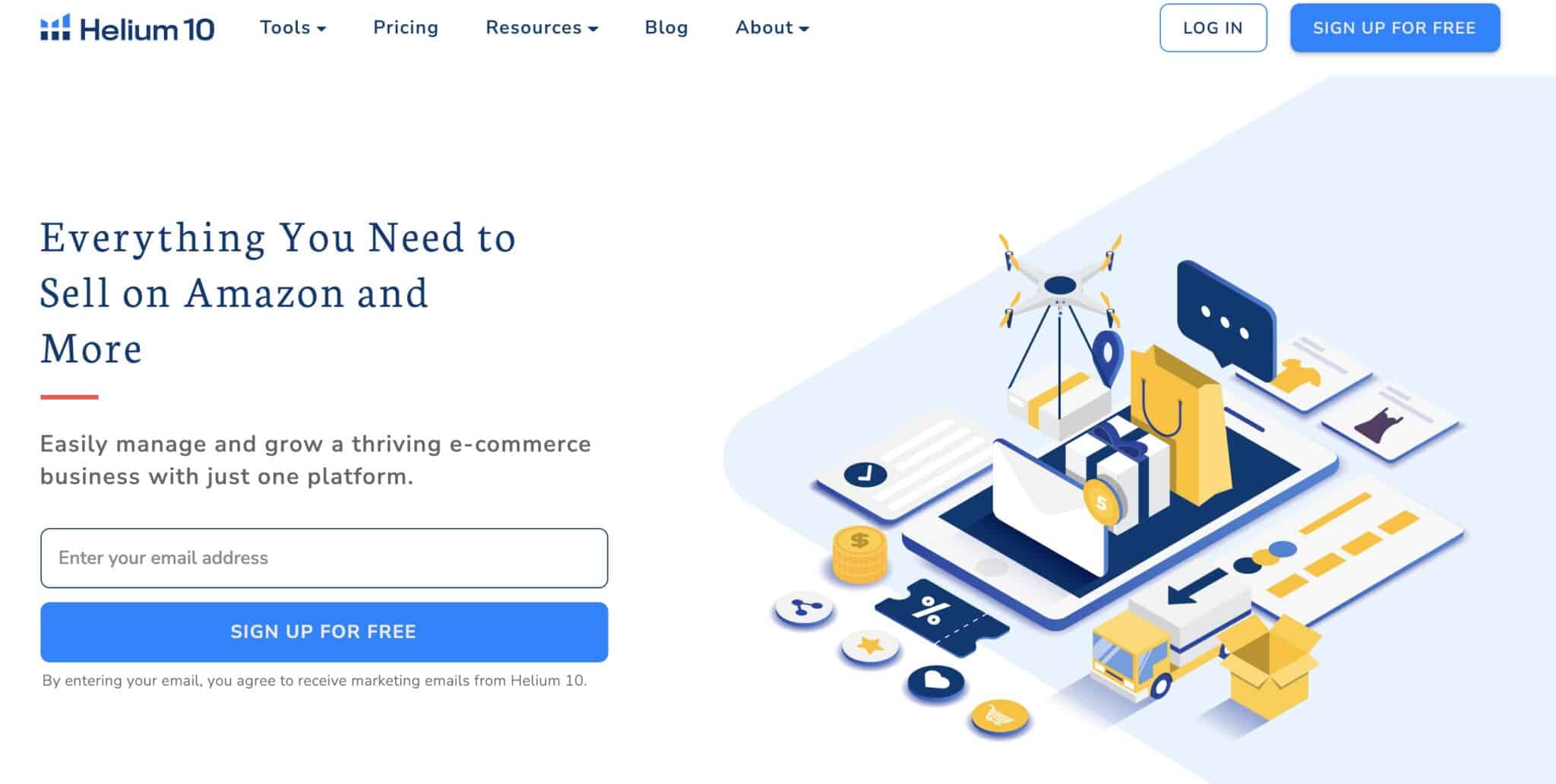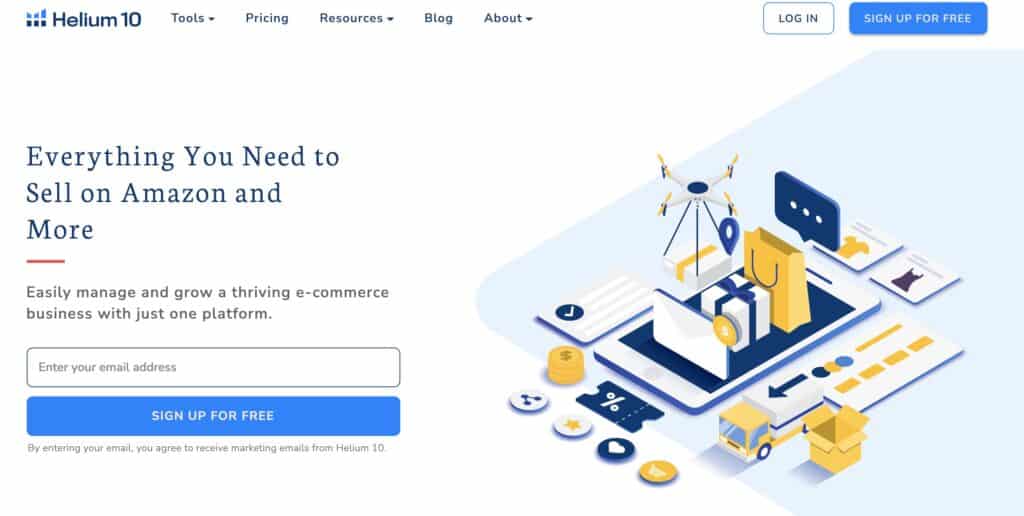 Like MerchantWords, Helium10 is a whole suite of tools rather than just one.
There's a great tool for product research, so you can validate a potential product's success before you even begin.
And there are several keyword research tools. These can provide advanced keyword aggregation and uncover your competitor's keyword strategy in one click.
There are also several listing optimization tools. With these you can organize your keywords into ready-to-use lists and ensure your search visibility with automatic keyword search result verification.
It will also deliver other analytics besides, with profit tools, and a market tracker. And there are tools to supercharge your conversions, where you can create a landing page, streamline your ad campaigns.
And that's not all – it also has tools for operating your Amazon FBA business, with a refund genie, an inventory protector, alerts, and so on.
There's even a smartphone app which is available on both iOS and Android.
There's a free trial available, but once that's over you will have to pick a subscription plan. The price of the starter pack is on a par with that of MerchantWords, but their most popular plan, the platinum one, is significantly cheaper than MerchantWords' most popular plan.
So it's certainly not a one trick pony and has a lot to offer its users. And we would argue that the two cheaper pricing plans are better value than MerchantWords, if you intend to use the entire suite.
Pros:
Great product & keyword research tools
There are several listing optimization tools
There's tools to supercharge your conversions
It also has tools for operating your business
Some tools are accessible via smartphone
Cons:
It's not free (though it is cheaper than MerchantWords and is great value for money)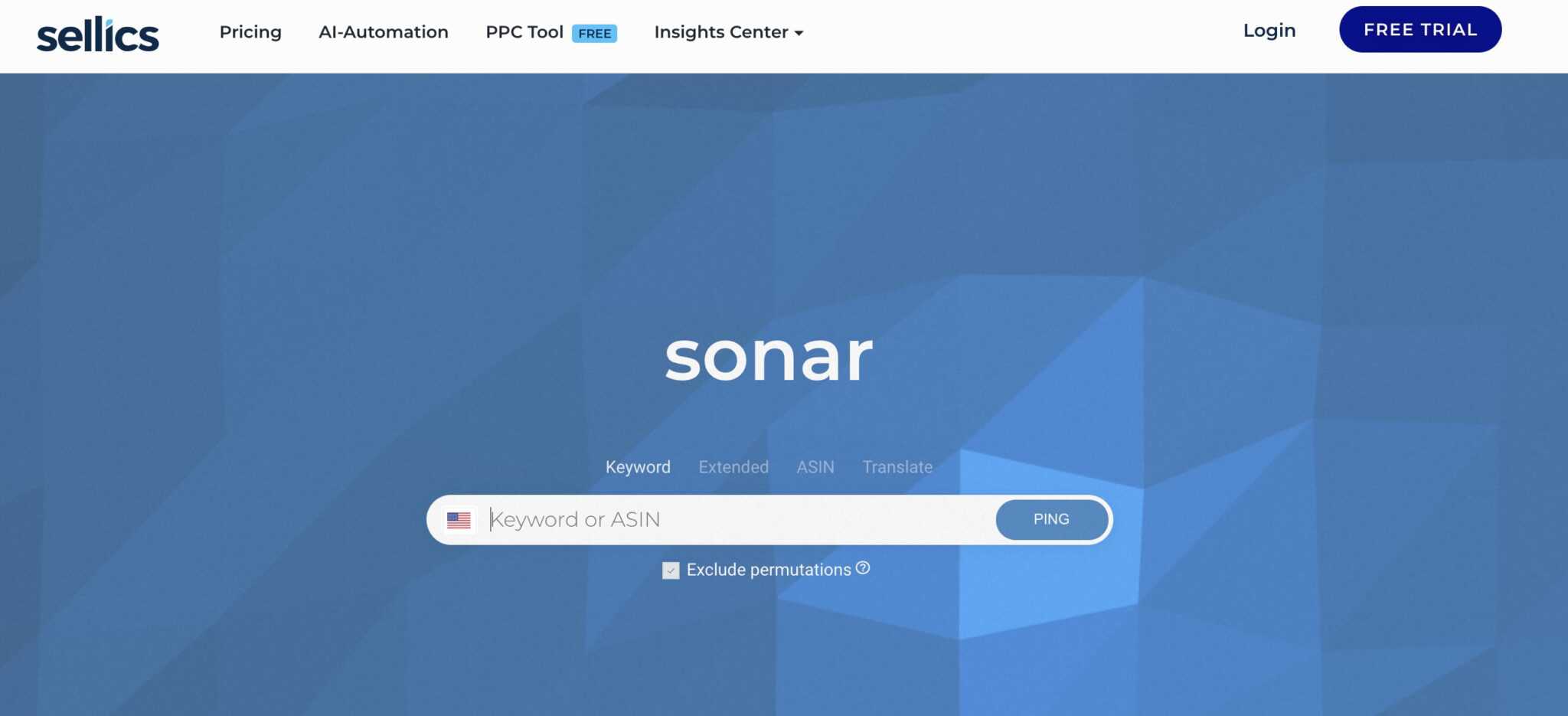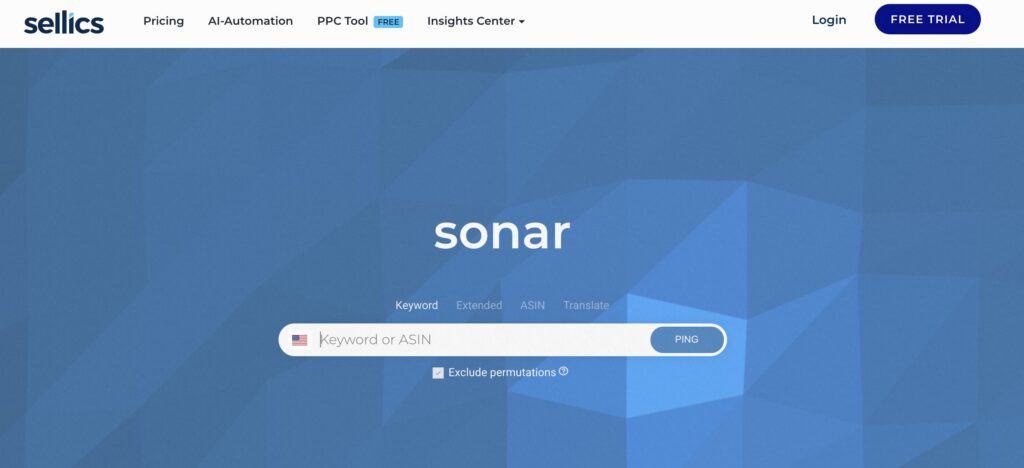 Sonar is a nifty little free to use Amazon keyword tool developed and run by Sellics. And it has analyzed over 180 million keywords generated by real Amazon shoppers in multiple languages. So it's a great option for those who sell far and wide.
It has three main functions. First off, it will provide you with the search volume for each keyword you enter, displaying the ones with the highest search volume at the top. It will also bring up related keywords that you can look at to see how they compare and decide whether to use them also.
There's also an extended keyword research tool that brings up various synonyms of words that you could potentially try to target.
It also does a reverse ASIN lookup. This will allow you to enter the ASIN number of a competing product so that you can see what keywords the said product is ranking for. And there's also a keyword translator function.
Together these are excellent tools to aid your listing optimization, enabling you to increase product listing visibility, and boost your Amazon SEO.
It can also be used by those who are yet to decide exactly what products they are going to sell by displaying a representation of search volume.
And it can even be used for forming Amazon PPC campaigns.
Pros:
Has analyzed over 180 million keywords
Provides an indication of search volume
Provides synonyms of various keywords
It also does a reverse ASIN lookup
There's a keyword translator function
It can be used completely free of charge
Cons:
The exact search volume figures are not displayed
At the moment it only covers Amazon US and Amazon EU
Tool4seller also offers a free to use Amazon Keyword tool, and it features millions of keywords covering all categories.
It uses Amazon official data which gets updated every month, which makes it pretty up to date, but isn't so hot for spotting emerging trends.
It's super simple to use. First select the marketplace you're interested in, because there are several, and enter a seed keyword. Then simply click the button to generate hundreds of long-tail keywords in a matter of seconds, with the more relevant and popular keywords at the top.
And, unlike with certain other free keyword tools, you also get search volume values for each of the keywords generated.
Better yet, you can then filter the results as required. For a guide on just how much this can help, head over to this link.
And once you have this information, this can really inform your product SEO, and you can start to optimize your product listing so that your product gets higher up the search result pages.
All the data is authentic and reliable since it is predicted by Amazon's own algorithms and models.
And if you were to decide that you might be interested in more than just Tool4seller's free to use offering, you can begin a free trial for their full suite of tools.
Pros:
Supports US, CA, EU, & Japan marketplaces
Data used is based on Amazon's own algorithms
The data is updated on a regular monthly basis
Cons:
Not the best option for cashing in on emerging trends
Now, there are two different versions of this tool, a free version called Keyword Tool and a paid version called Keyword Tool Pro.
The Keyword Tool uses Amazon autocomplete to generate large numbers of relevant keywords that you can use to optimize your product listings. But unfortunately it doesn't have a whole lot of use beyond that. If you want to receive estimated search volumes for your keywords, you would have to invest in the paid version.
Of course however this is a whole lot better than just typing in keywords into Amazon's search engine which also does not provide search volume data for the generated keywords.
But they Keyword Tool Pro platform has way more to offer. In addition to search volume data, there's also cost-per-click data, google ads competition data, twice as many keywords, competitor keyword analysis, and bulk search volume analysis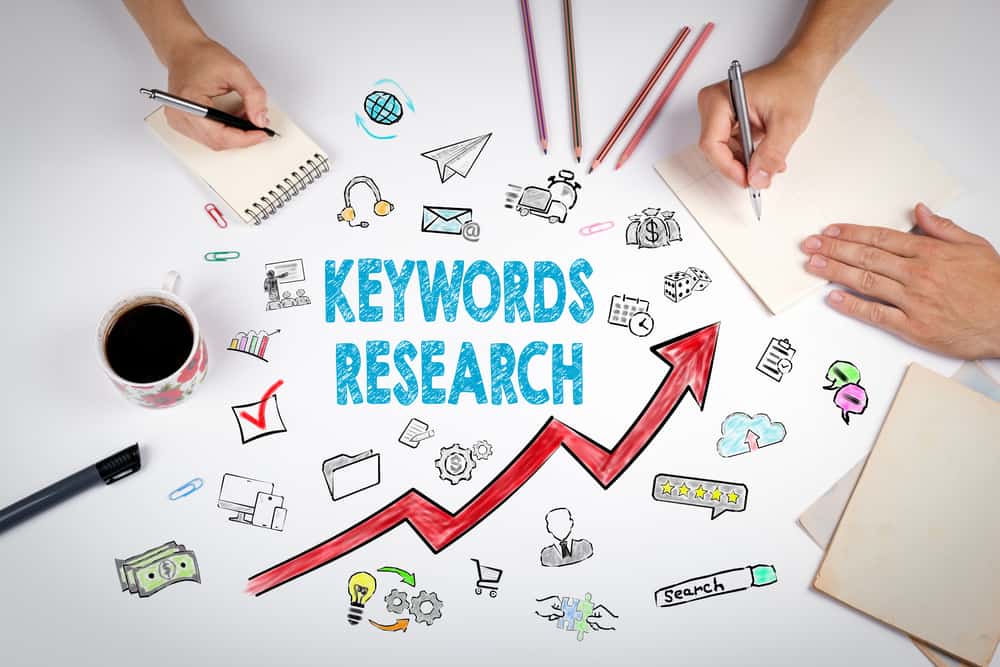 With regards to Keyword Tool Pro, unlike other similar keyword tools there isn't a range of different price plans to choose from. But if you go for annual billing, this works out significantly cheaper per month than MerchantWords' most popular plan. But if you were to pay monthly this works out more expensive.
Pros:
Free version generates large numbers of relevant keywords
Free versions orders the keywords according to their popularity
Pro version is cheaper than MerchantWords if paid annually
Cons:
The free version doesn't provide search volume
The free version uses a very limited number of keywords
Honorable Mention – A Free MerchantWords Account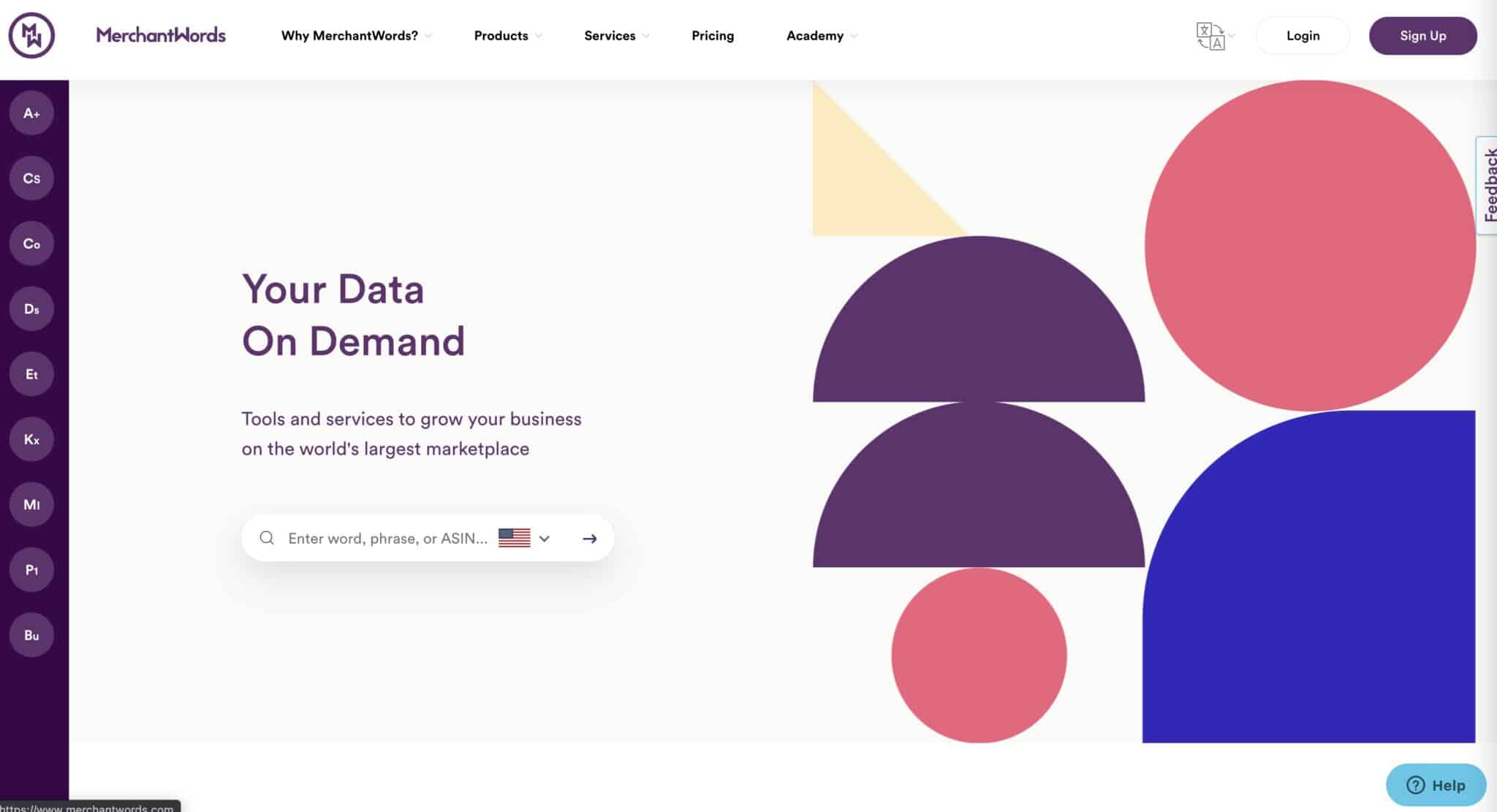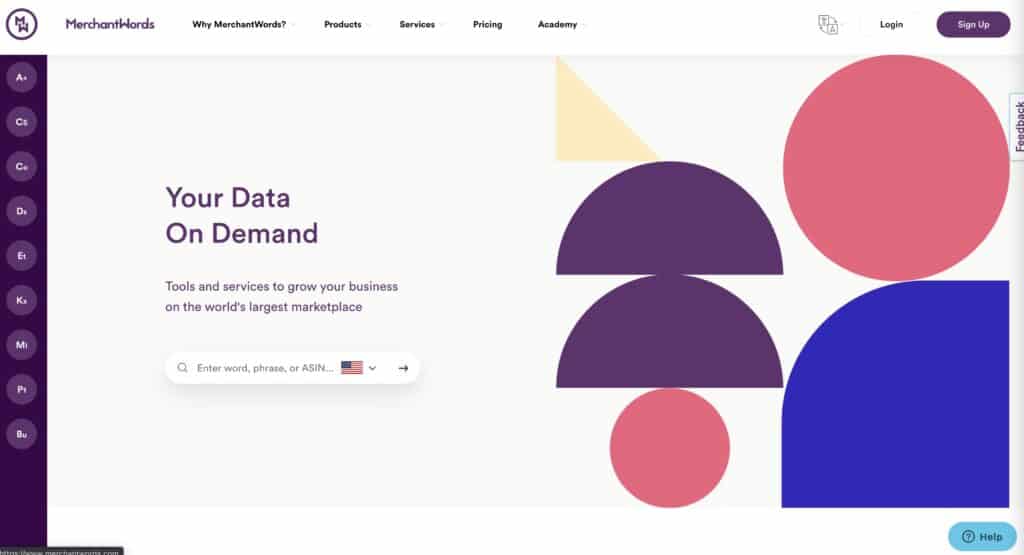 So, even though MerchantWords doesn't actually offer a free trial period as such, it turns out that you can access some of their services free of charge.
All you have to do is head over to their website (see the link above), click on the service you want, whether it's Market Insights, Digital Shelf, or Keyword Collections. Then you can submit your ASIN number (Amazon Standard Identification Number) and you can have a report generated and sent to your email address entirely for free.
You can also access their Emerging Trends tool for free on their website.
These free to access reports are actually pretty good. You get all the key data at your fingertips, in a very easy to understand format. And the Keyword Collections tool can be used for up to a whopping 1000 individual keywords.
When you provide your email address for the free reports, you can opt in to hear about offers for MerchantWords. So if you ever decide that you would like better access to MerchantWords' suite of tools, you may receive a great deal via your email.
Pros:
Access several MerchantWord tools for free
Compile collections for up to 1000 keywords
You could possibly receive some great offers
Cons:
MerchantWords will try to get you to subscribe to one of their pricing plans
Guide To Choosing A Free MerchantWords Alternative
Ok, so here's what to look for when choosing your Amazon keyword research tool…
User Friendly Interface
Sometimes the amount of data that these apps can provide can be overwhelming and tricky to get your head around. That's why we favor apps that aren't too over the top, and display exactly what you need to see with as little needless extras as possible. Especially if you're relatively new to the game. An app with a nice, clean, streamlined interface can make all the difference.
Data To Look For
All the data you really need to get you started is the search rank of as many keywords (that are relevant to your products) as possible. And you should also have a tool to bring up different synonyms of those keywords, and long-tail keywords, too.
You may also be interested in a tool to help you organize your keywords, perhaps by exporting them to a .CSV file that you can use as a handy spreadsheet.
What Tools Do You Want
If all you're looking for is a tool to bring up the most popular keywords for your products, that's quite easy to come by.
However, if you're looking for an entire suite of tools like MerchantWords, then your best option may be something like Helium10. It's not free, but they do offer a free trial.
Amount of Data Provided
Amazon keyword research tools can really vary in terms of how much data they have at hand to process. Some will only hold data for certain countries or regions, and others will have data for the world over. You may also be interested in seeing historic data.
Accuracy of Data Provided
The other way in which these keyword research tool apps differ is in their accuracy. Ideally you'd want your data to be as up to date as possible. That way you can keep up to date with any keywords that might be currently trending for your products.
Value for Money
Unfortunately we only came across one free alternative to MerchantWords, and all the rest of the alternatives that made our shortlist do cost money. We decided not to include prices in the article in case they change. But you can certainly check the pricing by using the links provided.
Frequently Asked Questions
Is There A Good FreeAlternative To MerchantWords?
While there are many free to use keyword research tools around to help inform your keyword strategy as an Amazon seller, there aren't any free to use platforms that match the MerchantWords offering, because it's a whole suite of tools rather than just one tool.
Helium10 is one of the best alternatives to MerchantWords. They offer a free trial but after that you have to pay. But their most popular subscription plan is cheaper than the comparative one from MerchantWords. And in time, it could start to pay for itself.