The thing about MerchantWords is the price. When you decide to set up a FBA business, the idea behind it is to have as little in the way of overheads as possible. But the most popular MerchantWords subscription plan costs well over $100. And that is not what you need. Certainly at least when you first set up.
But there's something that's much worse than that. And that's not having any Amazon keyword research tool at all. If you go into this business blind, you won't get very far at all.
Thankfully, there are some cheaper alternatives to MerchantWords out there, including one free one, and some of them are actually pretty good. We've been checking out some of the best ones and have hand picked our top few favorites to review for you here today.
But we get that choosing one can be tricky, which is why we have also put together a brief guide on what to look for when choosing one. It's a handy little checklist.
Then we're going to top that off with a section where we answer some of your most frequently asked questions on the subject.
And without further ado, let's get started.
In a hurry? Check out our number one pick!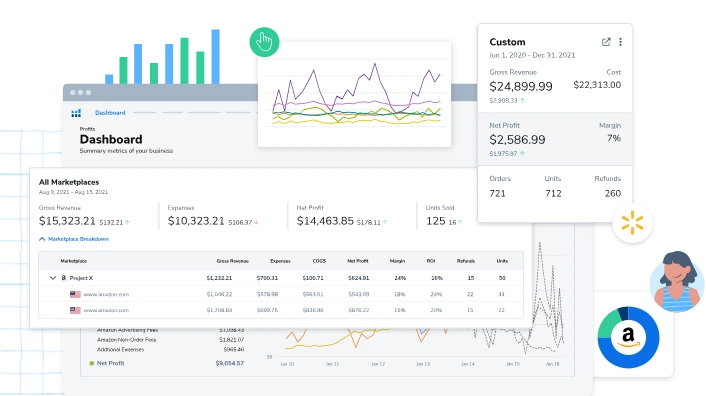 Helium10 is a whole suite of tools rather than just one. It has great features for product research, so you can validate a potential product's success before you even begin. And there are several keyword research tools. These can provide advanced keyword aggregation and uncover your competitor's keyword strategy in one click.
There are also several listing optimization tools. With these you can organize your keywords into ready-to-use lists and ensure your search visibility with automatic keyword search result verification.
It will also deliver other analytics besides, with profit tools, and a market tracker. And there are tools to supercharge your conversions, where you can create a landing page, streamline your ad campaigns.
And that's not all – it also has tools for operating your Amazon FBA business, with a refund genie, an inventory protector, alerts, and so on.
There's a free trial available, but once that's over you will have to pick a subscription plan. The price of the starter pack is on a par with that of MerchantWords, but their most popular plan, the platinum one, is significantly cheaper than MerchantWords' most popular plan.
So it's certainly not a one trick pony and has a lot to offer its users. And we would argue that the two cheaper pricing plans are better value than MerchantWords, if you intend to use the entire suite.
Helium 10 Pros
Great product & keyword research tools
There are several listing optimization tools
There's tools to supercharge your conversions
It also has tools for operating your business
Some tools are accessible via smartphone
Helium 10 Cons
It's not free (though it is cheaper than MerchantWords and is great value for money)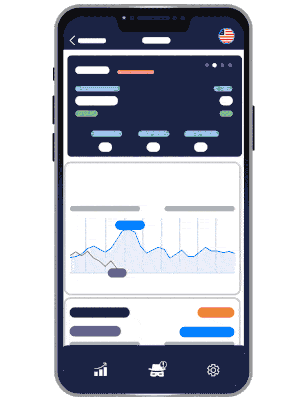 SIGN UP FOR HELIUM 10
Get 20% OFF your first 6 moths or 10% OFF every month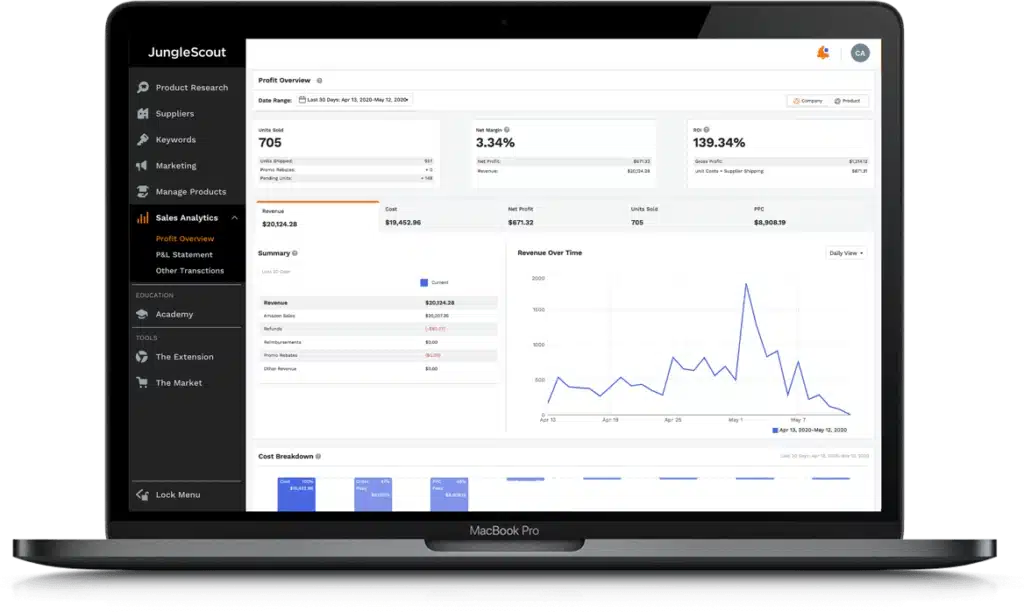 Jungle Scout is an exceptional tool for Amazon sellers, offering a wide range of features to facilitate product research, market analysis, and sales optimization. With its comprehensive toolkit, Jungle Scout empowers sellers to make data-driven decisions and achieve success in their Amazon ventures.
Just like Helium 10, Jungle Scout provides a robust product research tool that enables users to validate potential products and gauge their likelihood of success. By providing valuable insights into product demand, competition levels, and sales performance, Jungle Scout equips sellers with the information needed to make informed decisions and choose profitable product opportunities.
Similarly, Jungle Scout offers a suite of keyword research tools that allow users to conduct advanced keyword aggregation and unveil their competitors' keyword strategies. By optimizing product listings with high-performing keywords, sellers can enhance their search visibility, attract more potential customers, and ultimately increase sales.
In addition to product and keyword research, Jungle Scout boasts a variety of listing optimization tools. These tools enable sellers to organize keywords into easily deployable lists and verify their search visibility through automatic keyword search result verification. By optimizing their listings, sellers can improve their chances of appearing in relevant search results and driving traffic to their products.
JungleScout Pros
Powerful product research tools
Advanced keyword research capabilities
Comprehensive listing optimization features
Robust analytics tools for profit analysis and market tracking
Conversion optimization features to boost sales
Tools for managing and operating an Amazon FBA business
JungleScout Cons
Not available for free, requires a subscription
Some advanced features may require higher-tier pricing plans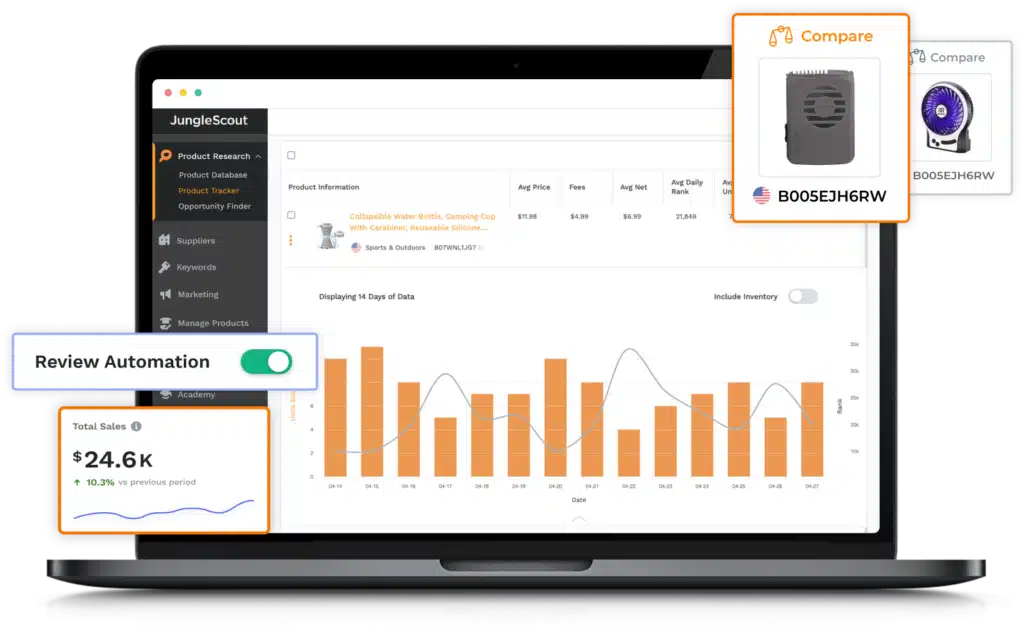 Want to boost your profits and streamline your Amazon FBA business?
Get 80% OFF on JungleScout and take your business to the next level today!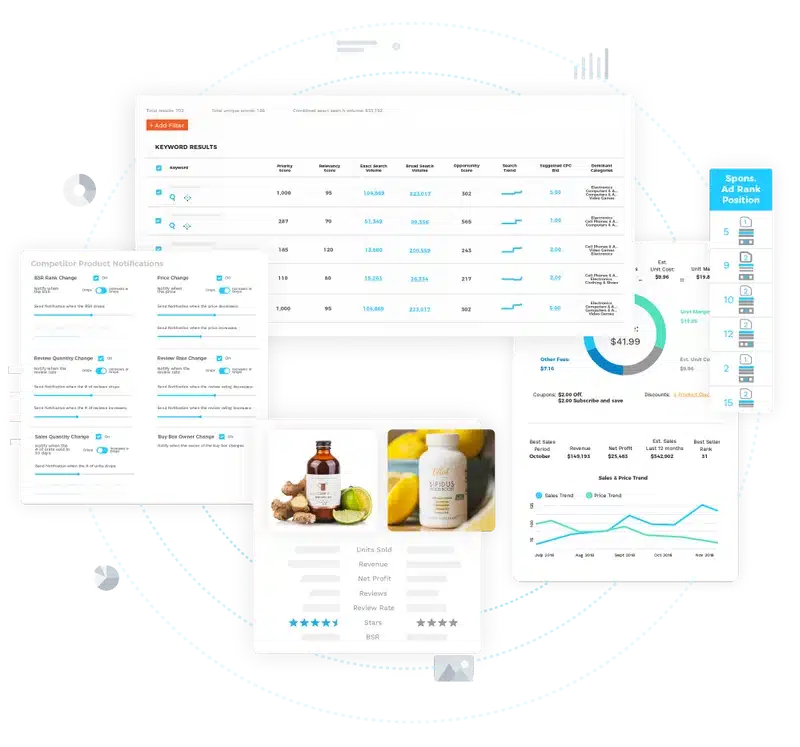 Viral Launch is a comprehensive tool designed to assist Amazon sellers in various aspects of their business. With a range of features and functionalities, Viral Launch provides sellers with valuable insights and tools to optimize their product research, listings, and overall performance on the Amazon platform.
One of the standout features of Viral Launch is its powerful product research tool. It helps sellers identify profitable product opportunities by analyzing market demand, competition levels, and sales performance. By leveraging data-driven insights, sellers can make informed decisions and select products with higher chances of success.
Similar to Jungle Scout, Viral Launch offers robust keyword research capabilities. It allows sellers to discover high-performing keywords, analyze their competition, and optimize their product listings for improved search visibility. By incorporating relevant keywords, sellers can increase their product's visibility, attract more potential customers, and drive sales.
Viral Launch Pros
Powerful product research and keyword analysis capabilities
Effective listing optimization tools
Analytics features for sales performance and market trends
Tools for managing and operating an Amazon FBA business
Competitive pricing plans
Viral Launch Cons
No free version available, subscription required
Advanced features may require higher-tier pricing plans
Frequently Asked Questions
Why is the price of MerchantWords a concern?
The most popular subscription plan of MerchantWords is expensive, which can be a significant overhead cost for new FBA (Fulfillment by Amazon) businesses that aim to minimize expenses.
Are there cheaper alternatives to MerchantWords?
Yes, there are several cheaper alternatives to MerchantWords available in the market, including some free options that provide effective keyword research tools. Check out Helium 10, JungleScout, and Viral Launch
Are these alternatives better value for money compared to MerchantWords?
Yes, the mentioned alternatives, especially the lower-priced subscription plans, provide better value for money compared to MerchantWords. However, the specific value depends on the individual needs and requirements of the Amazon seller.