Jeff Bezos' Amazon is nothing short of a boon for e-commerce markets all over the world.
The company's global presence illustrates its brilliant performance in the sector and allows it to aid businesses worldwide.
When vendors do business through Amazon, they have access to unfathomably large markets, and consequently, similarly large profits.
One obstacle that business owners might face in these fortunate circumstances is that currency conversion is a hassle since they do business worldwide. But, unfortunately, it is a common problem and has been addressed by many companies and firms.
Standing taller than the rest among these institutions is Payoneer, a financial services company that allows vendors on Amazon to convert their sales into the currency of their choice faster and easier.
Payoneer also provides digital payment and money transfer services to consumers.
What is Payoneer Amazon?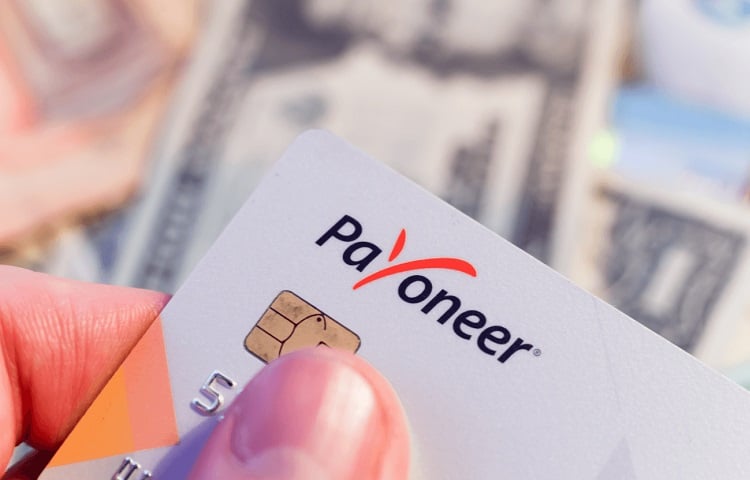 Payoneer is a financial services company founded in 2005 that has now become a global phenomenon.
It dishes out cheap and efficient digital payment and money transfer services to its 4 million users worldwide.
For example, if you have a prepaid Mastercard debit card, you can open a digital e-wallet on Payoneer through which you can send and receive money online in an instant.
Payoneer stands out among its competitors due to its ability to go through cross-border B2B payments with ease and grace.
The company delivers these services across more than 200 countries and handles more than 150 currencies. Tech giants like Amazon use these abilities to roll out their mass payouts anywhere in the world.
Payoneer is also a provider of working capital to individuals. As a result, the company decided to expand its Capital Advance service in 2019, allowing vendors who sell on e-commerce platforms to quickly get their hands on working capital.
How does Payoneer work?
Payoneer is built to provide you with a hassle-free financial payout experience.
However, there are quite a few tasks that the company is equipped to handle. Let's take a look at these tasks.
Getting a Payoneer account
Getting a personal Payoneer account is free. You have to visit their site and click "Sign Up."
You will then be asked if you are creating an account for personal use or professional use. Once you select the necessary option, you will be asked to fill in personal details like your name, email, date of birth, etc.
Using the above-specified email as your login ID, you have to set up a password and security questions to protect your account. You then have to click on the link that Payoneer sent you on the specified email.
After this, Payoneer will run a credit check on your account and verify your identity. The process of verification and background checks may take a couple of days. Once you are approved, you can begin using your Payoneer account.
Receiving funds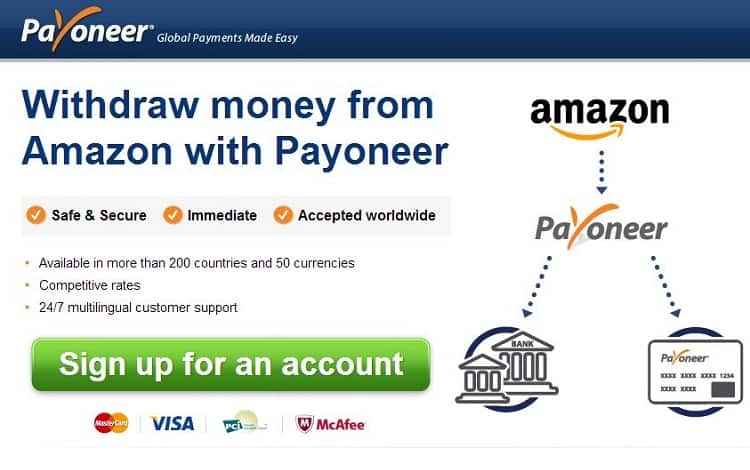 Receiving funds on Payoneer is simple, and you can do it in two ways. The first one involves you sending a payment request to your client.
The client can then accept this request and inward the necessary payment to your Payoneer account. Payoneer acts as the middleman in this case and sends a notification to the client about your request.
The other way to receive payments on Payoneer is by bank transfer. Payoneer allows you to obtain accounts that function like local bank accounts to get paid from companies and marketplaces like Amazon by bank transfer. That is how Payoneer will enable you to receive funds in local currencies, too.
Under its Global Payment Service, Payoneer allows you to hold receiving accounts for Euros, US Dollars, Japanese Yen, and the British Pound-Sterling.
However, Payoneer charges a 1% fee on receiving payments in US Dollars. Accepting payments in all other currencies is free. This program is beneficial for multinational conglomerates who have customers or clients in all corners of the globe.
Payoneer requires you to pay a 1% fee on every eCheck (USD) bill you receive if you receive payments via bills. Alternatively, if you accept payments in any other currencies on your bills, you have to pay Payoneer a 3% fee.
Making payments
Paying from a Payoneer account to another Payoneer account is a lightning-fast process. Additionally, it is free. You can also send money from your Payoneer account to other bank accounts using the necessary details.
In Payoneer's 'Make A Payment' program, you can make and receive payments for free. However, if you want to dish out payroll to your freelancers or other service providers, you have to pay a small fee to Payoneer.
For example, for local bank transfers or eCheck payments, you have to pay a 1% fee, whereas, on Credit Card payments, you pay a 3% fee.
Exchanging currency
To exchange or convert your wallet from one currency to another, you must pay a fee of 0.5% over the mid-market exchange rate.
That is a very competitive rate. It is what makes Payoneer a preferred choice across the planet.
Marketplace function
Online marketplaces often make use of Payoneer for rolling out payments into their clients' accounts.
However, withdrawing money from your Payoneer account is not exactly free since the marketplaces themselves set up a fee structure. In addition, the fees for different marketplace companies are different.
Transferring money from Payoneer to a personal bank account
Payoneer allows you to transfer money from your Payoneer account to your personal bank account.
However, this service comes at a price. If you want to move the money into a bank account with a different local currency, the service costs 2% above the interbank rate.
Furthermore, if the transfer is going to happen without currency conversion, you have to pay a fee of USD 1.50 for the transaction.
Can you use Payoneer with Amazon?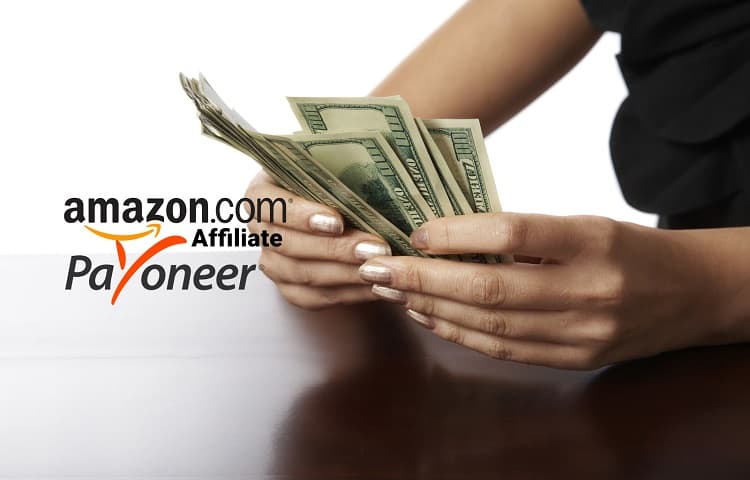 Yes, in fact, as a seller or vendor on Amazon, you are bound to use Payoneer.
It is because Amazon makes payments to your bank account every two weeks. However, these payments are impossible without linking your bank account to the Payoneer platform.
You must hook up the bank account in which you want to receive all payments from Amazon to Payoneer. It would be best if you also chose a currency that you are most likely to deal in so that you can avoid exchange and conversion charges.
In 2015, Amazon decided that Payoneer would facilitate its third-party payments. This fantastic move enabled many new merchants to do business on the Amazon marketplace.
Since Amazon faced difficulties making payments to specific locations because of local currency conversion issues, the company employed Payoneer to do the job. Thanks to this system mentioned above, payers do not need to have bank accounts in the country from which they are purchasing.
With this expansion, Amazon has made its online supermarket available to vendors from the USA, UK, Germany, Spain, France, India, etc.
Payoneer funding Amazon vendors
Payoneer also invites merchants on Amazon into its Capital Advance program. Essentially, Payoneer aims to provide $500,000 in funding to various vendors on Amazon, depending on the size of their businesses.
Vendors can pay this buyout back by negotiating a cut from every sale the company makes. It is truly an unexpected fruit, but thanks to Amazon's booming monopoly in the e-commerce sector, numerous lenders are trying to serve the needs of merchants on Amazon.
A significant chunk of these lenders is not banks. One such wishful lender is Payoneer, which aims to change the way working capital is given away. Payoneer is breaking traditional stereotypes of lending; the company is hesitant to look at tax returns and financial statements.
Instead, it plans to latch onto an Amazon vendor's account to glance over at their sales history and initiate the process of investment funding.
Pros and Cons of using Payoneer
Payoneer is a well-established trustworthy institution that can handle your money well. It is registered in the USA and has no prominent historical evidence of wrongdoing.
It has top-notch security and is capable of keeping your money safe. Most Payoneer users will stand by the thought that the company provides a wide range of financial services at low or competitive costs and fees.
Payoneer also holds pride in its state-of-the-art international monetary structure that bridges the distance between 200 countries and 150 currencies.
The company also connects global marketplaces and local vendors by allowing smooth transfer and conversion of funds into local currency. Payoneer also hands over a debit card service free of cost to every new user.
Payoneer's most significant plus point is its marriage with Amazon Seller Central. The company paves the way for millions of local vendors to do efficient business in Amazon's international marketplace.
In addition, it fundamentally aids Amazon in paying every vendor on their list, no matter where they are located or what currency they use.
Payoneer has had a few run-ins about the quality of its support staff not being up to the mark. There have been reports that the company's support staff does not know their own system inside out and that their customer support has an unprofessional approach.
Moreover, the company's transaction fees and withdrawal fees have been in the spotlight for being different – in different regions and for different marketplaces. In addition, the precarious nature of the costs and fees can be confusing for new users and has been criticized.
Applying for a Payoneer account through Amazon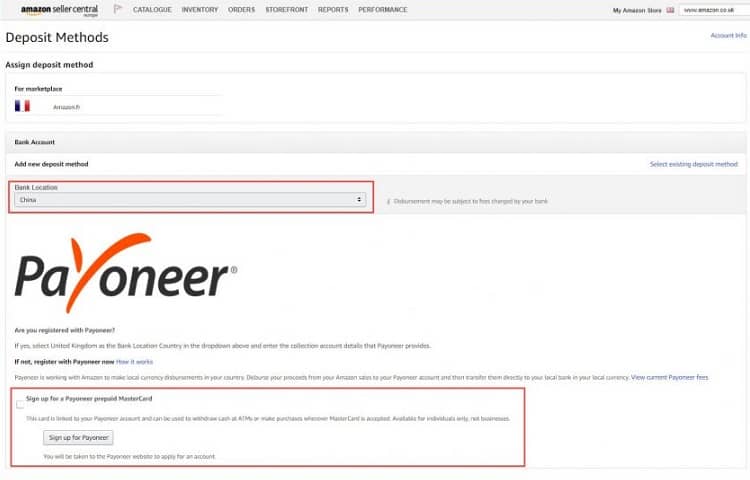 We have previously cleared the idea that your Amazon Seller Central account has to be linked to Payoneer for you to receive payments from Amazon.
However, there are a few easy steps to take.
Step 1
You need to create a Payoneer account. We have covered this above. This account is a USD account. Once you have one, make sure you are using Payoneer's Global Payments Service. Then, log in to your Amazon Seller Central account.
Step 2
Once you log in to Amazon Seller Central, you will be asked to fill in details about the business you operate, along with specific contact details. To finish this verification process, add your relevant phone number and address and click "Agree and Continue."
Step 3
Here you would be asked to enter the details of your Payoneer USD account (Global Payments Service). Fill in the information correctly and click "Next." Then complete all the other processes in the Amazon Marketplace setup.
Once Amazon has your Payoneer Global Payments Service details, they will disburse the funds into your Payoneer account, from where you can withdraw it into your personal account.
Conclusion
Payoneer provides quality service in the sector of transferring money, making digital payments, and converting currency.
It also handles all these tasks at a considerably competitive rate. Moreover, its essential services of making and receiving payments are more or less free of cost.
Payoneer is a massive financial service provider that helps Amazon truly fulfil the fundamental understanding – every business person must be paid for their goods or services rendered.
Its collaboration with Amazon has helped many vendors get their products out on the internal e-commerce marketplace. By brokering a deal to make Payoneer accounts mandatory, Amazon has also streamlined paying its vendors efficiently.
There are some crevices in the company's modus operandi, but these are bound to be scaled as time progresses. Payoneer handles one of the most volatile objects ever to exist – Money – and therefore has a few kinks in its fees that need to stop fluctuating. However, it is safe to say that it is bound to be a chaste business if it receives blessings from Amazon.
Payoneer is gradually increasing its stronghold all over the globe by tying up with a lot of significant businesses, marketplaces, and payment systems. It is simple to use on its own and linked to your Amazon Seller Central account with ease.
It would not be a surprise to see Payoneer become a globally favored payments system shortly. Payoneer is here to stay and to make complicated financial matters easy to endure.