It is not wrong to say that the world's most astonishing company is Amazon Inc. Jeff Bezos' well-oiled machine has been a dominating force in the world of e-commerce in the past decade.
The company has made remarkable progress in its forum of supply-chain management and product deliveries. That progress is thanks to two things: its fantastic human resources department and the massive barrage of vendors who sell their products using the FBA service.
FBA stands for Fulfillment By Amazon. That is a service created by Amazon to cater to its millions of vendors who make the online marketplace what it is.
Businesses that opt for Amazon's FBA service only have to send their products to the designated Fulfillment Centers, and Amazon takes care of the final delivery.
Vendors have to register and list their products on Amazon using their Seller Central accounts before they can be seen on the online shelves.
Every product has a unique ID, and every vendor must notify Amazon about such product details so that the company can ratify and sell these products. Vendors also have to ship the listed products to Amazon for delivery and fulfillment.
Let's dive into the process of editing your listing on the Amazon FBA service.
Why would you want to edit your FBA Listing?
Ask any seller what the most crucial part of any Amazon listing is, and you'll get the same answer: a well-documented product listing gives conversions and sales.
Every aspect of your listing has to be top-notch, polished, crisp, and straightforward. Shoddily written product details, low-quality product images, and poorly documented bullet points result in less or no conversions.
Every product listed by every vendor has to fit a specific standard, a benchmark that Amazon sets. Therefore, all aspects of the product listing have a significant impact on sales.
Sellers have to create product pages to add their products to the Amazon catalog. These pages are permanent features on the company website for the benefit of other sellers and buyers.
In addition, Amazon organizes its website according to products. That means, when a customer lands on a product page, they get access to the numerous vendors that are selling the product.
Amazon, therefore, uses the information provided by every vendor to create a detailed product page.
How to edit an Amazon FBA Listing?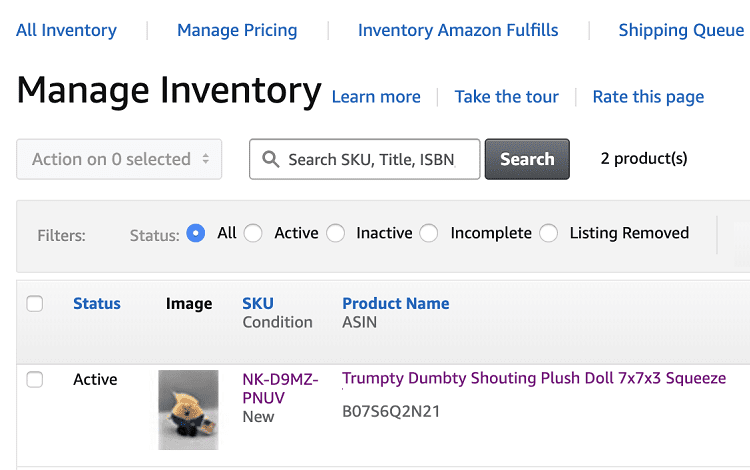 Every vendor can edit the FBA Listing for every product in their inventory.
So, let's start by finding out how to begin editing a particular listing.
Log in to your Amazon Seller Central account.
Click on the 'Inventory' tab, and select 'Manage Inventory.'
Inside your inventory, you will see listings of all the products you are selling.
In the list of active listings, locate the listing you want to edit and click on the Actions link.
Click on 'Edit Details.'
Now, the tabs on your window will guide you in adding, editing, or changing the contents of the listing.
Be sure to save your changes after you complete the editing process.
Editing the condition type of a listing
Log into your Amazon Seller Central account.
Under the 'Inventory' tab, click on 'Manage Inventory.'
Using the search feature, look at your active listings.
Once you locate the listing you want to edit, click on the Actions link next to the item.
Add the necessary conditions and the required information.
Click 'Save' and finish.
Editing the price and quantity information of a listing
Log in to your Amazon Seller Central account.
Under the 'Inventory' tab, click on 'Manage Inventory.'
Using the search feature, look at your active listings.
Once you find the product that needs changes in its listing, you can type the changes directly in the text boxes.
Save and finish.
Editing the pictures of your product listing
Log in to your Amazon Seller Central account.
Under the 'Inventory' tab, click on 'Manage Inventory.'
Using the search feature, look at your active listings.
Locate the listing you want to add pictures to.
Every product needs one main image and can have up to 8 other pictures in the listing.
Add the images from your device.
Save and finish.
You do not have to add photos while creating the listing, and you can add them later.
What if you cannot edit a listing using your Seller Central account?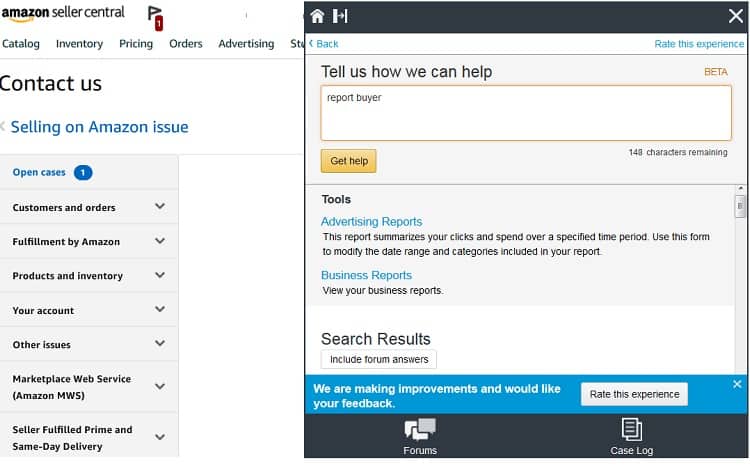 There may be a few times when you cannot edit a product listing or product page that you may or may not have created through your Amazon Seller Central account.
The first thing a vendor must ensure in such cases is using the correct ASIN (Amazon Standard Identification Number), a unique product identifier used by Amazon to segregate every product listed on the marketplace.
If you are using the right ASIN and still cannot edit a listing, the control for the product page of that listing must lie with another vendor.
Fret not; you can still get through to them and make changes to the product listing. Sometimes, the brand or the product manufacturer holds the reins of its Amazon product page, and they might not allow sellers to make changes for image preservation.
In such cases, you, the Seller, have to send in your corrections or proposed changes to Amazon Seller services using the Contact Us form.
To get to the Contact Us form, you need to:
Log in to your Amazon Seller Central account.
Go to 'Navigate to help.'
Click on 'Contact Us,' and go to 'Selling on Amazon.'
Select 'Products and Inventory,' and then click 'Product Page Issue.'
On this page, you will find the option 'Fix a Product Page.'
Now, you must locate the product that you want to fix.
Now, you should search for the product on Amazon using its unique ASIN.
Amazon will then ask you what exactly you want to edit on the product page.
Select the option you want to edit from the drop-down menu, for example, 'Product Description.'
Following this, Amazon inquires why they should consider your suggestions.
Here, you are expected to provide sources to back your arguments; generally, a resource from an authoritative website would do the job.
Notice how Amazon has always strived for clarity between buyers and sellers? The company must address every slight discrepancy about product details for Amazon's mechanism to run smoothly.
Additionally, consumer protection has been Amazon's goal since its foundation. Every buyer must get factual and accurate data about their desired products for the sale to be free of malice. Therefore, Amazon has made it easy to make changes to product listings.
How long does it take for changes to appear on Amazon?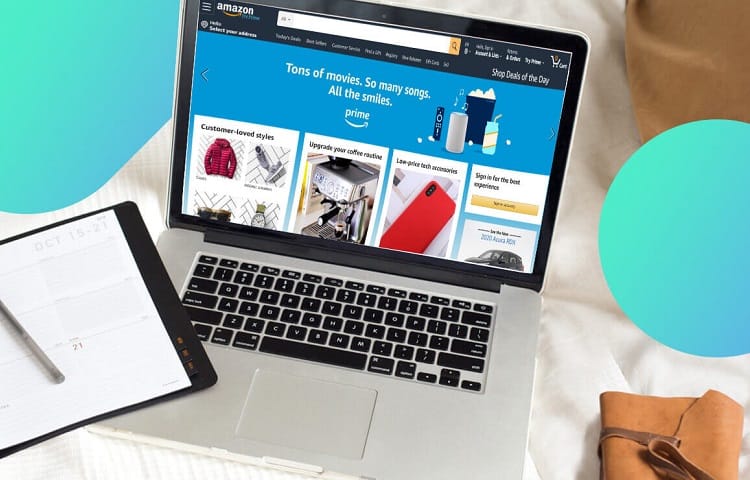 Most changes will be seen and updated on the Amazon marketplace within a few minutes. However, some significant changes can take up to 6 hours to be seen.
Additionally, if you have edited a product description longer than 500 characters, then it will be updated at 0800 hours PST on the day after the change is made. Lastly, additions or editions in product images can take up to 24 hours to be updated on the product listing page.
Vendors must bear in mind that Amazon handles millions of sales, dispatches, and deliveries every day. In addition to these, the company also manages product discrepancies and ensures clarity between buyers and sellers.
The problem of Duplicate Listings
Anyone can become a seller on Amazon. However, not everyone is there to do clean business.
Sometimes, some malicious vendors create a new ASIN for themselves. That ASIN has already been allocated to a product on Amazon. Therefore, when buyers search for the ASIN they are looking for, they will find a different product.
Sellers must be vigilant about this issue. They should keep an eye out for duplicate listings and contact Amazon management immediately upon finding malicious content on the marketplace.
Conclusion
Amazon FBA is a fantastic service catering to millions of vendors on the company's website.
Vendors have to ship their inventory to Amazon, and the company takes care of the rest. The vendors have to file the correct product details on the Amazon marketplace.
However, they have the liberty to make adequate changes and additions to their product listings whenever they deem necessary. Vendors can edit all product details using their Amazon Seller Central account or ask Amazon's seller center to make essential changes.
Every option to edit a product listing is available in a seller's inventory. They can add images, accurate product descriptions, or even edit prices and quantities with a few simple keystrokes.
Unfortunately, since the company groups the same products together, it isn't easy to point out which Seller controls a product's page. However, sellers can still make changes by giving Amazon the necessary arguments for change.
Sometimes, some malicious sellers try to dupe customers by duplicating product ASINs. Amazon takes notice of this problem when sellers bring it to the company's notice. Sellers must be aware of such schemes and try to expose them as soon as possible.
Product details must not be misused for malicious gains. Sellers must aim to do good business and provide buyers with accurate product information in their listings.
Resources: